Meet the Team: Natasha Schauer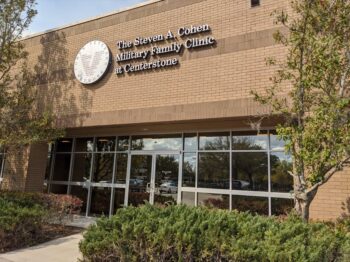 At the Steven A. Cohen Military Family Clinics at Centerstone our team is phenomenal. Each and every staff member not only plays a crucial role in accomplishing our mission to ensure our military families receive the care they've earned, but they do so from the heart and with a passion that can't help but to inspire. Here's a closer look at one such teammate, Natasha Schauer, MSW, LCSW, LCAS, a Clinician in our Fayetteville clinic, who is also an Army veteran.
Tell me a little bit about yourself, such as where you grew up and your background leading up to joining CVN?
I am from Palm Beach Gardens, Florida. I grew up with my head in a book and my soul in the water. I thought at one point I wanted to be an aerospace engineer, but I soon realized that just because you're good at something doesn't mean you like it. The Army was an act of alternative rebellion that showed me where my heart was; helping others. Being a medic was my start in social work, and I discovered my true talent of being unfailingly calm. I graduated with my master's degree in Social Work from the University of Southern California in 2016. Since then I have trained in Dialectical Behavioral Therapy for adults, adolescents and children. I love working with individuals diagnosed with personality and complex trauma related disorders, enhancement of effective parenting, and the treatment of adolescent and childhood conduct, disruptive and mood related disorders.
Can you tell me about your time in service?
Being in the Army takes who you are, and it gives you a compass that provides the guidance and direction for how to live a life of service. I became sharper, more goal oriented, focused and able to achieve things I don't know that I would've considered (let alone been able to accomplish) without the military framework. I'm grateful for all the incredible and diverse brothers and sisters and experiences I've come to know as a result of my time in service.
What was it like returning to civilian life?
It's like you have all the knowledge and the compass for how to live in the world and then you wake up on a whole new environment. The robust level of support you had while in the service isn't at your fingertips; the safety net is different. I was prepared in theory for the transition but the actual work of learning and developing new systems outside of the one I had lived in was at times shocking. It was, and at times still is, an adjustment. You can take me out of the service but you can't the service out of me.
You've taken life experience and built a career to help others, what was your greatest takeaway from this process?
I honestly think I take something new away every session. This process isn't one where just our client's grow; we as clinician's are always growing and developing along with our support in the development of others. My biggest overarching takeaway from my transition into social work is that people want to be witnessed. Our grief, pain, shame, sadness, fear, hope, excitement and love want to find a place where they can just be heard and understood before anything else.
How have things been going at the clinic since you arrived?
I have absolutely enjoyed the clinic pace and support since I arrived. It reminds me of that comprehensive and supportive environment that you get when you are truly a part of a team.
Have you faced challenges so far in your time at the clinic?
I think the challenge I've faced so far is in being still. I want to get everything done and in motion and started so much that sometimes I forget to take a moment, be still, and it will all happen in time.
What do you hope for clinic and your clients?
I hope that everyone who comes into our clinic (virtually or literally) feels welcomed, supported and understood. This is a team who wants to show up for you, I can only hope that everyone feels the open arms.
What do you like to do for fun?
I love to learn and create things. I'm always reading; I've never quite learned how to get my head out of a book or a good story. I also crochet Amigurumi, which is a fancy way of saying I make homemade stuffed animals.
Favorite sports team?
My favorite sports team is the New England Patriots.