Meet the Team: Seaira Harrington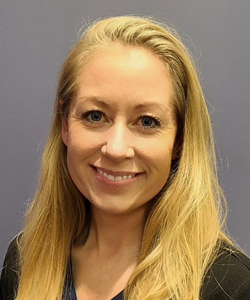 One thing is definite within the Steven A. Cohen Military Family Clinic at Centerstone – our team is a team. Each and every staff member not only plays a crucial role in accomplishing our mission to ensure our military families receive the care they've earned, but they do so from the heart and with a passion that can't help but to inspire. Here's a closer look at one such teammate, therapist, Seaira Harrington.
Tell me a little bit about yourself, such as where you grew up and your background leading up to joining CVN?
I grew up in Northern California where I went to Humboldt State University and earned my bachelors in psychology and a masters in social work. I am married and have a large blended family. We have four children together, ranging in age from 10 all the way up to 26, with one still at home. We moved to Tennessee in December of 2021 and are so fortunate to have two of our children stationed here at Fort Campbell.
How have things been going at the clinic since you arrived?
Everyone has been so welcoming and we really have a good team here! I am constantly impressed by how well we work together and support one another to help ensure our military families get the best possible care each and every day.
Have you faced challenges so far in your time at the clinic?
Doing therapy all day has been a big transition for me. I have always been more social work forward wearing many different hats throughout the day in past employment. Focusing on therapeutic work and diving more deeply into that has been hard but so rewarding. Helping clients thrive is a passion for all of us, and here I am able to play a part in that.
What do you hope for clinic and your clients?
Growth and Care. Our military families face so many unique struggles. Not all are service related by any stretch, but military life's challenges such as frequent transitions and separations can add to other concerns. Understanding that makes our clinic special. We recognize the sacrifices our service members and their families endure and are dedicated to easing those burdens through quality care.
What do you like to do for fun?
Explore, work out, take pictures, spend time with family, travel, read.