Centerstone to host Trauma of Racism presentation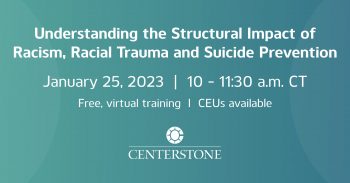 Centerstone, a national leader in behavioral health care, will host "Why Does His Back Look Like That: The Trauma of Racism" presentation on January 11 from 10-11:30 a.m. CT via Zoom. CEUs are available and there is no charge to attend.
Objectives of the training include:
Knowledge on how race is used to promote division
Understanding of why race is used to support divisive principles
Knowledge on the effects of division in our society
Insight into the obvious and understated traumatic effects of racism
Participate in a solution-focused discussion regarding racial trauma and division
The presenter of the training will be Jeremy Allen with Southern Illinois University – Carbondale (SIU-C). Allen is a Ph.D. candidate in Sociology at SIU-C who specializes in race. He has taught Sociology 108 Introduction to Sociology, 215 Race and Ethnic Relations in the U.S., and 303 Sociology of Deviance. He has academic training in stratification, race, criminology, research methods, and analysis. Additionally, Allen has decades of lived experience relating to his primary area of study.
This training has 1.5 hours of continuing education approved for IL LCPC / LPC, IL LCSW / LSW, and IL Nursing (LPN, RN, APN) under IDFPR Professional Counselor CE License No. 197.000263 and IDFPR Nurse CE Sponsor License No. 236.000184.
To register, visit Centerstone.org/events. For more information, contact Hannah Chapman with Centerstone's Trauma, Treatment & Training program.
This training is sponsored by Centerstone's Trauma, Treatment and Training (CT3) program.
Other CT3 training events in 2023 include:
January 4 – It's Not About You: Structural and Systemic Racism
January 11 – Why Does His Back Look Like That?: The Trauma of Racism
January 18 – Stop Acting Like a Child: The School to Prison Pipeline
January 25 – Understanding the Structural Impact of Racism, Racial Trauma and Suicide Prevention