Centerstone's CCC Team Attends NCCAN 2019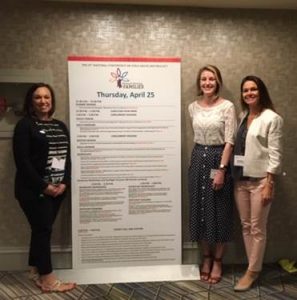 Recently, members of Centerstone's Community Collaboration for Children (CCC) Team attended the National Conference for Child Abuse and Neglect (NCCAN). The event connects practitioners, researchers, policy makers, parents and volunteers from a wide variety of disciplines to help build better outcomes for children and families. Our CCC Team – which consisted of Corinna Pannell, Grace Harrison and Summer Giron – presented on "The Parent Engagement Meeting as an Approach to Prevention." Parent Engagement Meetings (PEMs) help families who are at risk for educational neglect (identified as six or more unexcused absences) to get support with services at the forefront, and decrease the potential for involvement by Child Protective Services.
For the 2017-2018 school year, the CCC team diverted 86% of families they worked with from being referred to Child Protective Services through PEMs! Amazing!
Hats off to our CCC Team for representing Centerstone at NCCAN and working so hard to prevent child abuse in Kentucky!