Join Centerstone for inaugural Stars, Stripes & Songs concert supporting mental health services for veterans and military families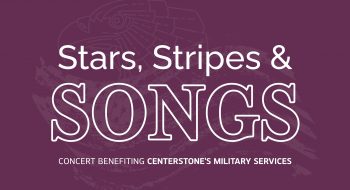 Join Centerstone on October 26, 2022 for an evening with friends and music – raising support for those who have served our country – with a performance by Walker Montgomery. The evening begins at 6pm with a self-guided tour of The Country Music Hall of Fame and Museum where country music's evolving history is preserved and interpreted. The museum tour includes access to new exhibitions, including "Chris Stapleton: Since 1978" and "Western Edge."
Following the museum tour, guests will enjoy hors d'oeuvres and beverages prior to the concert featuring a performance by Walker Montgomery.
Ticket sales provide mental health services to our nation's active duty service members, veterans and their families through Centerstone's Military Services, part of the Centerstone healthcare system that delivers life-changing care and supportive services nationwide – providing mental health services to all branches of military service members, veterans of all eras (regardless of discharge status) and their loved ones – at low to no cost.
In the last year, Centerstone's Military Services served 16,400 veterans, military service members and their families. Centerstone works with more than 1,200 mental health providers who are trained in military cultural competency, in all 50 states, Puerto Rico, Kuwait, the United Kingdom, and Germany, and have physical locations in five states.
Stars, Stripes & Songs sponsors include Pinnacle Financial Partners, Cigna, Ergon Foundation, Tom and Debra Mahler, Shearwater Health, Baker Donelson, and the Schickling and Nahley Families. Tickets for Centerstone's 2022 Stars, Stripes and Song are available on Centerstone's website. For information please contact Maria Wolfe.
About Centerstone
Centerstone is a nonprofit health system providing mental health and substance use disorder treatments. Services are available nationally through the operation of outpatient clinics, residential programs, the use of telehealth and an inpatient hospital. Centerstone also features specialized programs for the military community, therapeutic foster care, children's services and employee assistance programs. Centerstone's Research Institute provides guidance through research and technology, leveraging the best practices for use in all our communities. Centerstone's Foundation secures philanthropic resources to support the work and mission of delivering care that changes people's lives.
About Walker Montgomery
Walker Montgomery, chosen as an Artist to Watch in 2022 by Country Now and Music Mayhem Magazine; as well as Artist to Watch in 2021 by Sounds Like Nashville and The Boot and a Country Next pick by Country Now, is a rising singer/songwriter who knows a thing or two about family tradition, but he's an artist making his own legacy. The 21-year-old son of John Michael Montgomery and nephew of Montgomery Gentry's Eddie Montgomery, the emerging star was raised away from the spotlight in Nicholasville, Kentucky. But now that he's found that spotlight on his own, Montgomery's pedigree is matched only by his country passion. Signed to Play It Again Entertainment and produced by the multi-award-winning chart-topping team known to the world as The Peach Pickers – Dallas Davidson; Ben Hayslip; and Rhett Akins (who have nearly 80 No. 1 songs between them)– he's already put his classically-inspired, honey-bourbon vocal to use on a self-penned hit debut ("Simple Town," over 4 Million Spotify streams). A pair of story-building singles followed – the high-energy "Like My Daddy Done It" and passionate "Saving For A Rainy Night" – and there's more on the way. Montgomery and his team have already logged countless hours in the studio, as the breakout talent works to hone his lyrical honesty and integrity, plus a lived-in sound that brings country's past into the present tense. "I want my music to stand the test of time and connect with people no matter who they are," he says. "I learned from my family that the way you do that is by being true to yourself, and that's the reason I'm here. That's the reason I get up every day and do what I do – to help take care of the family name and make them proud."