Now, Maybe More than Ever, We Need the Magic of the Season, Without the Stress!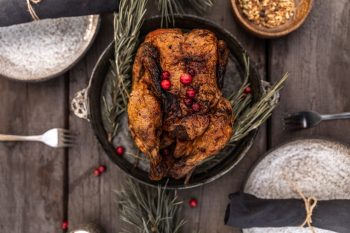 Now, maybe more than ever, we feel the need to give thanks for our blessings and remember we are not alone in what can feel like such isolated times. Of course, each must decide what is best for themselves and their loved ones, but rest assured, the hustle and bustle is right around the corner, even if they involve donning a mask and cleaning just a little more. So how do we ensure the magic of the holidays glitters on despite a pandemic's attempt to dim it? Maybe we listen to the experts. Thankfully we have a few of those here at the Steven A. Cohen Military Family Clinic at Centerstone who know a thing or two about stress and how to handle it.
For instance, Licensed Clinical Social Worker Don McCasland suggests accepting that this year's festivities may look different but that doesn't mean they can't still have special moments.
"Understanding and accepting this year's circumstances for what they are can go a long way to overcoming them," McCasland said. "Once we understand certain things are out of our control we can begin to come up with solutions. For instance utilize technology, get your loved ones together on a zoom call, face-time, send photos throughout the day. Seeing each other and interacting may not be possible face-to-face, but that doesn't mean memories can't be made."
McCasland's colleague, and Assistant Director of the Cohen Clinic at Centerstone, Julie Adams, agrees with McCasland. She adds that if you do find yourself unable to travel and spend time with family over the holidays seek out alternatives locally.
"Get a small group of friends together for an evening," Adams said. "The holidays can be an emotional time for many of us, surrounding ourselves with supportive friends can help ease these feelings and remind us we are not alone."
Clinic Director, Jennifer Smith, also suggests thinking out of the box this year by starting new traditions.  "Maybe you can't be with loved ones this year, but you can still reach them. Take time to write a personal letter to those you wish you could be with. Sending your warmth and love in different ways may boost both of your spirits."
Getting children involved in plans may be another great tip to ensuring the season retains its magic. "Many of our children are struggling this year. The events of 2020 have been difficult for some adults to understand," therapist Leahanna McDonald said. "Giving a voice to our kids on how we celebrate may ease their fears and could lead to some creative ideas that give way to wonderful memories."
Finally, for families that are sticking to their traditions, clinician King Counts says discussing plans and safety measures beforehand can help get everyone on the same page and ease potential concerns. "The holidays can be stressful in the best of times," Counts said. "Discuss your expectations with your loved ones, make a plan to ensure everyone is comfortable and can enjoy the celebration together safely. This way when it's time to gather around that table worries are lessened and the joy of the season can shine."
Maybe even with magical possibilities you didn't see coming, 'tis the season after all and this year, maybe more than ever we need that magic.