5 Tips to Help Teens and Young Adults during the Coronavirus Pandemic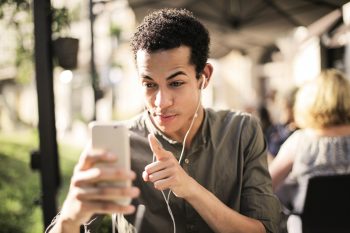 The coronavirus pandemic is changing everyone's life, but for teens and young adults, the changes are especially notable. They're at the age when they're the most social and yearning for independence, but instead they're being told that they have to distance themselves from their friends and stay at home with their families.
"Teenagers everywhere are having to put their lives on hold, and it's just not fair," says Edrica McDowell, Community Services Program Manager at Centerstone. "Unfortunately, it's what's required if we want to fight this pandemic and make sure as few people as possible get sick. But there still are ways that you can help the young adults in your family get the love, support, education and interaction they need during this pivotal time in their lives."
Here are some tips for you to help the teens and young adults in your life:
It's OK to be sad. Let them be sad, angry, frustrated, disappointed about all the things they're missing out on. They've worked for a long time to get to where they are, and you shouldn't dismiss their feelings and emotions during this crisis. One thing you can say is "I'm sorry this is happening right now. I know you've worked so hard and have lost so much, so fast. I know you'll get through this, but that doesn't make things less disappointing right now."
It's also OK to be happy. On the flip side, many teens and young adults might be feeling happy by the fact that there are some things they don't have to do. There might have been some commitments they didn't want to keep or some people (classmates, teachers, coaches) they didn't want to see, so this crisis might actually bring some relief. Of course, they might then feel conflicted by feeling relief, so be compassionate in what you say. Try something like "It's OK to feel relief now, too. There's no right or wrong way to feel – just feel how you feel, and we'll get through this together."
Social butterflies need to fly. Meanwhile, just as you might be feeling frustrated by the lack of social contact, teenagers and young people might also be feeling that frustration – especially if they're hearing that some of their friends' parents might not be as strict as you're being. If something like that is occurring, we'd suggest telling them something like "I know that other parents are not being as strict about social distancing, but we won't be doing that because we are following what so many experts have recommended." Let them blame you, if they need to, while you keep an eye on social-distancing recommendations and see if maybe there are some ways to help them – safely – see their friends while staying safe. Also, if you had rules or time limits set up with social media, now might be a time to consider relaxing those a bit – but be sure they don't go too far with screen time.
Give them space. Many teens and young adults value their privacy and alone time, but this quarantining crisis might not allow that to occur as easily. Try to give them their space and don't be offended if they just want to stay in their room or have some alone time. Make sure they know that you enjoy their company, but also understand if they want to have some quiet time.
Include them in conversations. As we all work to figure out how this "new normal" will affect our own lives, careers, communities, relationships and overall society, we're going to need to find some creative solutions, and young adults can be very creative. Involve them in the decision-making process as well as some difficult conversations. For example, instead of coming up with a daily schedule for everyone to follow, include them in the planning so they can offer some suggestions and have some say in how things can occur. You might be surprised by some of their ideas!
Through this crisis, Centerstone remains fully operational and continuing to serve our clients and communities. As always, the health and well-being of our clients, staff and community stakeholders is our main priority. We have implemented system-wide strategies that reduce the risk of exposure while preparing us to respond effectively in the event the current threat level escalates. To reduce the risk of COVID-19 exposure at this time, almost all appointments are being conducted via telephone or telehealth (video). For more information, please click here.
---
---