Fostering Teenagers: The Urgent Need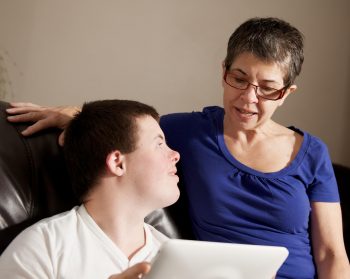 Children of all ages in foster care typically come from a background of trauma, abuse, or neglect, but the need for foster families willing and able to care for teenagers is profound. According to HSS, (U.S. Department of Health and Human Services), teenagers, between 13 to 19, make up 43% of the caseload and child welfare agencies, pubic and private, and are in need of families willing work with teenagers.
Teenagers are on the crossroads of the world they knew into the world they will create for themselves and for future generations to come. Like other children, they require love, guidance, and support, but they also have to learn some degree of adult living skills as they prepare to transition from adolescence into the real world of independence.
"It can sometimes be difficult to find foster families willing to take an older kid," says Lynne Carter, Director of Centerstone's Foster Care Select Program.  "People think teenagers are going to be really difficult, and about half the time they are and half the time they aren't. We really try to do a good at screening kids. We meet them first, because if they are on board, then the foster parenting experience is all the more stable and successful," she added.
So what does it take to foster a teenager? The three most important qualities, skills and criteria for being a foster parent to a teenager are:
Unconditional acceptance
Firm boundaries
A safe place to thrive
But what else? You must be ready to:
Give without expecting an immediate return
Have room in your home and in your lifestyle
Acquire or have skills in behavioral management and be willing to learn
Open your heart to love and care for a teenager in need
Teenagers are the blossoming flowers in the garden of tomorrow's hopes and dreams for a better world. Start the journey to becoming a foster parent today and open your home and your heart to a teenager who needs your love, support and care. You can learn more about Centerstone's therapeutic foster care program and start the licensing process by visiting www.centerstonefamilies.org now!
If you or some you know is in need of mental health or substance use disorder treatment, Centerstone can help with those, too. Call us today at 1-877-HOPE123 (877-467-3123) or visit us online at www.centerstoneconnect.org.
---
---