From Service Member to Civilian: Tips to Help with Your Transition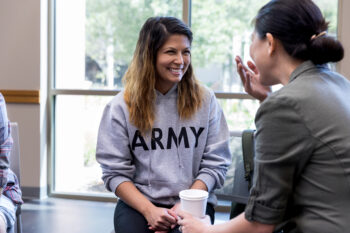 Making the transition from active duty to the civilian sector after military service can come with its fair share of challenges. Transitioning can be a long adjustment for many service members, and it can be difficult to find a community where they feel a sense of connection. Some service members may not know an adult life outside of the military, and may need to learn an entirely new set of skills to help them be successful in the civilian world.
According to Aaron Goletz, Data Director at the Cohen Military Family Clinic at Centerstone, "one of the biggest challenges service members face is that when you're in the military, most things are planned out for you – housing, living expenses, job roles, etc. So, the amount of freedom you have when you become a civilian can be extremely overwhelming because for the first time in a long time, or maybe ever, you have control over everything."
The first step many service members take is making sure that all of their basic needs are met and that they are in a place where they feel a sense stability and belonging. The next step, and arguably the hardest for many service members is figuring out what's next. Whether they wish to pursue higher education or join the workforce, there are several details that need to be considered. If they choose to pursue a form of higher education, Goletz recommends that they try to get as specific in their plans as possible, and ask themselves the following questions:
"What is my ultimate career goal"
"Which degree or certification will help me obtain my desired role"
"Which institutions offer this program"
If a service member is planning to go straight into the workforce, their transition may look a little different. In the military, when service members have a specialty and a career, promotions are already planned and scheduled, and everyone does the same thing to move up in rank. In civilian careers, promotions and career tracks require a different set of skills. This transition can be especially challenging for those who either made the military their career, or were planning to, and never intended on pursuing a career in the civilian sector.
Finding employment as a civilian can be challenging for some service members, however, there are a number of helpful resources to help them determine if their military skills are transferable into civilian jobs. One to two years before the end of service, the military may offer career counseling to service members to help them decide next steps. The military Transition Assistance Program (TAP) provides service members and their loved ones with information, tools, and resources to help prepare them for their move from military to civilian life. Programs like these can help service members figure out what their options are and can help them with things like:
Learning about benefits
How to build a resume
How to budget
How to get housing
How to pay bills
It's important for service members to know that they have options, and that although their transition may come with some challenges, civilian life can be as fulfilling and rewarding as military life. The best thing they can do to ensure a smooth transition is to beginning thinking about the future and start preparations as early as possible.
If you or someone you know is feeling overwhelmed and struggling with their military transition, Centerstone can help. Visit our military services page or call us at 1-877-HOPE123 (1-877-467-3123) for more information.
---
---