How to Foster and Create New Friendships as an Adult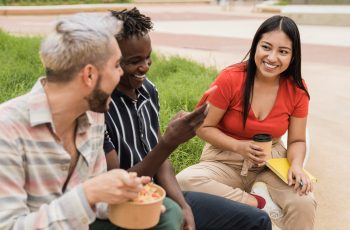 Good friends can give us a sense of purpose and support that can be hard to find on our own. Research shows that having solid friendships can benefit us by decreasing the intensity of some mental health symptoms, increasing our immunity, and helping us live longer. As we get older, personal and professional commitments can make it harder to find the time to manage current friendships and develop new ones. Lynda Killoran, Mental Health Outpatient Therapist at Centerstone, says "Some older persons tend to become more self-conscious, which can cause an increased fear of rejection. This can create a barrier to reach out, which can cause some people to not want to put themselves out there at all."
When adults no longer have the social interactions that we naturally received from a school environment and school-based activities, it can be hard to create new social circles. Luckily, there are many options to help cultivate new friendships:
Take a class. Whether you have a hobby or skill you've loved your whole life, or there's a new one you've always wanted to learn, taking classes to develop this skill is a great way to meet new people. You'll be around like-minded people who share a common interest which can make initiating a conversation easy.
Volunteering is an easy way to get out in your community and make a difference, as well as develop relationships with other people who support the same cause(s) you do.
Join a recreational sports team. If being active is more your style, check out your city's rec leagues! There's nothing quite like a little bit of healthy competition to help bond a group.
Say yes. Sometimes, we can make great plans but feel differently when the time comes to engage. "Accept invitations to outings," Killoran adds, "and say yes more, because you never know who you could meet."
For those who are more introverted and may feel intimidated by the idea of putting themselves out there, there are still some ways to create new friendships while still staying in your comfort zone.
Friends of friends. You may not have to look far for a new and meaningful friendship. Considering fostering relationships with acquaintances in your life and see where it leads.
Virtual groups. If you prefer a more low-key introduction, consider joining online classes or chat forums on topics that interest you. You can still be surrounded by like-minded people while also staying in the comfort of your own home.
Counseling. If you feel that your introversion limits your social interaction to the point of being unhealthy, you may want to speak to a licensed therapist. Group counseling may also be beneficial as it can allow for social connection without being overbearing.
Creating new friendships takes time and effort, so don't feel discouraged if a connection isn't formed overnight. Friendships are both important and necessary, and there is a friend out there for everyone.
If mental health concerns arise due to the lack of friendships in your life or for someone you know, Centerstone can help. Call us at 877-HOPE123 (877-467-3123) or visit our counseling services page.
---
---