How to Make Your Home a Safe Space for a Foster Child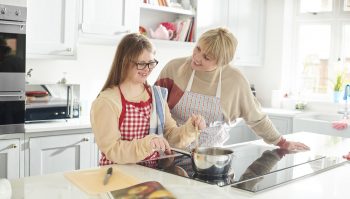 An important factor to consider when fostering a child is how comfortable and safe they feel in your home. Many children in the foster care system can experience frequent transitions, and without proper measures in place, their well-being could be at risk. Some children come from environments that are not physically or emotionally safe, so ensuring that their foster placement is as safe and comfortable as possible is key. Each state's Department of Child Services (DCS) has very specific guidelines for what is expected from foster parents.
"It is imperative that foster parents are aware of these guidelines and are fully prepared to abide by them," Says Lynne Carter, Director of Foster Care at Centerstone. Some of these parameters include:
Proper plumbing and heating systems
Working smoke and carbon monoxide detectors
A reliable electrical system
Fire extinguishers on each floor of the home
A lock box or safe to store items that the child should not have access to
Another way to ease the transition for foster kids is allowing time for the child or children and foster parents to get to know each other. Foster parents are encouraged to create a family book that shares different information about the family including things like basic rules of the home, pictures of pets, frequent visitors, and things the family does together. It can also help kids if they're able to decorate their own space, as this can allow them to feel more at home and may help them feel more comfortable upon placement.
When possible, DCS recommends co-parenting with the child's biological parents so that both sets of parents, and the caseworker, can nurture and care for the child or children. Co-parenting is a great option for kids, as it allows them to feel less conflicted in their loyalty to a certain set of parents. This also creates the possibility for foster parents to demonstrate healthy parenting styles for the birth parents, and when done successfully, it can result in the child returning to their birth parents sooner. And, when the child or children see a positive relationship formed between their foster and biological parents, it may allow them to feel more at ease in their foster placement, as they know that their biological parents are still present in their life. Although the placement may be temporary, they know that they are in a safe space.
Foster parents should also be aware of any medical or mental health conditions so they can continue treatments, therapies, or administering proper medications.
"It's important that foster parents know if the child has had any previous experience with self-harm or other behavioral concerns," Carter adds. This information helps the foster parents keep their home as safe as possible for the child.
If you or someone you know wants more information on foster care, Centerstone can help. Call us at 877-HOPE123 (877-467-3123) or visit our foster care page.
---
---