How to Support Someone Experiencing Loss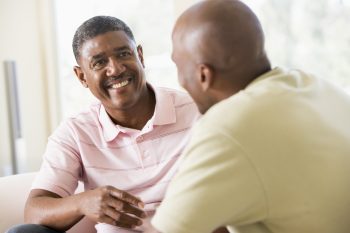 Loss is something most—if not all—people will experience in their lives, and it doesn't come with a simple set of guaranteed solutions. What do we do when someone important to us has experienced a profound loss? How do we begin to help them move forward when they have lost someone important?
One thoughtful answer is to try our best to be present, to be intentional in our speech, and to consider that this may not be easy for them. Here are five ways to talk with someone experiencing loss:
Consider their pain. Understand that the more personal a loss is for someone, the more painful it will be for them. Let the person who is grieving do so in their own way. They might be fighting a battle that you know nothing about. Understand that loss is different for everyone.
Use sensitive and mindful language. Be considerate in your language. Avoid saying things like, At least they lived a long life; It was their time to go, While it may be said with the good intention of helping a grieving person focus on something else, the grieving person should focus their energy on healing. Saying those things might signal to a loved one that you are not comfortable hearing their emotions.
Offer compassion. Sometimes just being present with the grieving person and saying nothing can be most helpful. Showing support doesn't always have to be with words, but if you choose to express your love and compassion, try saying something like this: I am so sorry for your loss; I wish I had the right words; Please know I care,
Remember the memories. If your friend has experienced a family death, talk about that loved one. Speak their name. Recall and share all that you appreciated about that person. Write a handwritten letter outlining everything you enjoyed, respected, or learned from them. Don't be afraid to talk about a lost loved one with someone who is grieving.
Start new traditions. In the case of a family death, consider spending a day celebrating the life of the departed loved one and whatever brought joy to them. Try to begin thinking of new ways to celebrate that person that won't be a sore spot for your friend or family member who has endured the loss.
Loss is difficult, but there are ways you can support a loved one in a time of sorrow. If dealing with loss becomes overwhelming, other support systems such as therapy are also available. No one should have to go through loss alone.
If you are struggling with your mental health after suffering a recent loss, Centerstone can help. Call 1-877-HOPE123 (1-877-467-3123) for more information.
---
---