Improving Social Wellness to Strengthen Mental Health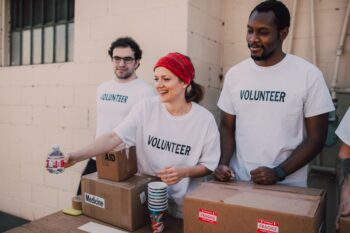 Social wellness is a dimension of wellness that focuses on connection to help provide a sense of self-worth and fulfillment. This connection can be with friends, close family members or community involvement like work, volunteering, organizations and clubs. "We all have unique needs," says Mandy Kinnaird, Manager of Child and Family Services for Centerstone. "Social wellness may be achieved more by connecting with friends for some, connecting with family for others and so on."
Social wellness and mental wellness
Strong connections help you feel understood and like you are contributing to the world. As every dimension of wellness is interconnected, having strong social wellness can go on to improve your mental health.
When you are more connected to other people or your community, you can often see improvements in your mood. Engaging with others you enjoy spending time with, or doing life-giving activities, increases the positive chemicals in the reward center of your brain. Building up your connections also provides you with more outlets for support, helping you better prepare for life's challenges with people who will be there for you.
Conversely, when you are not well-connected, you may see an increase in mental health issues. "Feeling alone makes life harder," says Mandy Kinnaird. "When you don't have people around, there are less opportunities for your self-worth to be validated. And when the hard times come, you may have a higher chance of lingering in unresolved crisis."
Strengthening connections
To improve our social wellness we need to strengthen our connections. Here are a few tips to help you nurture your relationships with others.
Reflect: The first step you should take is reflecting on what makes you feel good. Take some time to think about what is life-giving to you. Think about the people who build you up and make you better, and the things you do that make you feel like a good citizen of the world. Taking stock of what makes you happy will help you decide who and what to stay connected to and invest your time in.
Get Involved: If you are struggling to build connection, try a new activity in your community. Volunteering with an organization you care about provides an opportunity for you to put good into the world while interacting with others who share your interests. You could also get involved in book clubs, attend performances, invest in your religious community, or even just find a place to frequent where you see the same people. There are also ways to build connections online like online support groups, interest groups and forums.
Manage Commitment: To keep your connections strong, you need to keep your commitments. Relationships are built on trust, and people need to know they can rely on each other. Consistently falling through on your commitments can hurt the relationship. On the other side, you need to be honest on the front end about when you are stretched too thin. It is more harmful to make and later break a commitment than it is to say no. Be honest about what you can handle and set healthy boundaries.
If you are struggling with mental health challenges, Centerstone is here to help. Call us at 1-877-HOPE123 (877-467-3123) or visit centerstone.org/connect-with-us/ to get connected with care.
---
---