Mental Health Tips for Single Parents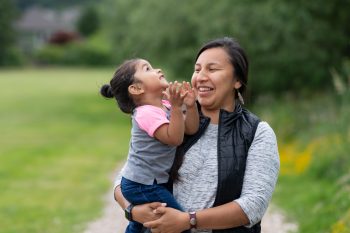 Families come in all shapes and sizes, including single-parent households headed by a widowed, divorced, or separated parent with children under 18. According to the U.S. Census, about three in ten families with children are headed by single parents. Some of the challenges that may come with single parenting are financial struggles, time management, and finding quality time for yourself or with other people.
"When you are a single parent, there can be a shortage in emotional and financial resources because you don't have that second support person there to help, and that can take a toll on mental health," says Sally Mondino, Early Head Start Manager at Centerstone.
Here are several ways for single parents to be mindful of their mental health:
Include the kids. Children of single-parent households can learn and develop many great characteristics such as responsibility, independence and compassion. Including children in your routine may help distribute the household responsibilities and can be another great way to spend quality time together.
Schedule time for you. "Occasionally you can set aside time for self-care like reading a book or taking a relaxing bath after the children have gone to sleep," says Mondino. "It's also possible to incorporate self-care by letting your kids tag along with you for walks outside, cooking, and meal prepping."
Avoid comparing. "Try to avoid the tendency to compare yourself or your family with others," says Mondino, "The key is to remind yourself that there are all kinds of families and every family can be different." Social media may be misleading, and it is oftentimes a curated moment—try to avoid comparing in those situations because people don't tend to post the challenging moments in their life.
Ask for help. Everyone needs help at some point or another. Research local resources that will benefit you and your family. Find financial assistance programs, family services and hobbies, afterschool care programs, and others to help you along the way. Reach out to any family and friends that you are comfortable with asking for help.
At times, being a single parent may feel overwhelming and taxing to one's mental health, but there are habits and resources to help manage along the way.
If you or someone you know is struggling with their mental health, Centerstone can help. Call 1-877-HOPE123 (1-877-467-3123) for more information.
---
---