Showing Up for your Kids: Tips for Fathers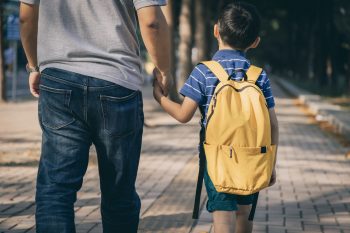 Celebrated each June, Father's Day is a day to recognize and appreciate dads for all they do. Having a solid paternal figure is important for kids as they grow up, allowing them to develop healthy attachment styles and feel more secure in their sense of self.
Emily Brault, Licensed Clinical Social Worker at Centerstone, says that children need parental figures in their lives who can "regulate their emotions in a manner that helps them grow." However, some dads may experience parenting challenges or question their abilities about being a good parent. Situations like marital separation, divorce, or not having a good paternal role model can lead to feelings of discouragement or not measuring up as a dad.
"It's crucial to challenge any negative thoughts or internal dialogue of doubt about your ability to show up for your child, and be the best father you can be despite the setbacks that are thrown your way in life," Brault adds.
The ways fathers can show up for their kids will look different for each family, but a few suggestions include:
Listen to them. Listening your child or children about their experiences or problems can make them feel heard and validate their feelings.
Prioritize quality time. Show up for your child's extracurricular or school activities and special events. For younger children, reading books or playing games can be a great way to connect. What may seem like small gestures to you can mean the world to your child.
Get involved. You can get involved by changing diapers or getting up with your child at night if they need to be comforted. Taking them to the doctor, sharing drop-offs and pick-ups with the other parent or caregiver, and helping with homework can also be good ways to connect.
Recognize your own parental conditioning. The type of support and presence you had from your own father growing up can determine your parenting style. This recognition and awareness can begin any necessary healing, and is a foundational component for breaking dysfunctional, generational cycles within families.
Seek help. If you have a strained relationship with your child and are eager to make amends, see if there are local community-based resources in your area. Programs like Centerstone's Providing Opportunities for Parental Success (POPS) program and various community-based support groups help provide fathers with the tools they need to begin rebuilding relationships with their children.
Centerstone is here to help as well. If you or someone you know is experiencing parenting concerns, call us at 877-HOPE123 (877-467-3123) or visit our counseling services page.
---
---