What is NARCAN and How Can It Save Lives?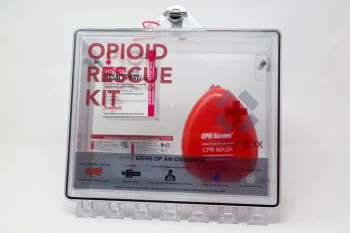 The Centers for Disease Control (CDC) reports that in 2021, more than 80,000 people died of an opioid overdose in the United States. However, the concern about opioid overdose isn't a recent issue. As far back as the 1960s, a life-saving medication has been available which reverses the effects of the opioids in the body. In 2015, the Food and Drug Administration (FDA) approved this medication for a nasal spray administration that made it more widely accessible to the public. This medication is called Naloxone, now more commonly known by its brand name, NARCAN.
NARCAN is becoming more readily available in the United States and Ashley Collins, Program Manager at Centerstone, advises that everyone should have some in their possession. "Everyone needs NARCAN. Even if you don't have a loved one with substance use concerns, you may be at the grocery store when someone overdoses," says Collins, "you never know."
NARCAN should be administered whenever an overdose is suspected. Once in a person's body, it blocks the effects of the opioids in the brain and helps restore normal breathing. It can take between two and three minutes for NARCAN to take effect in the body, but it is not a permanent treatment. As soon as NARCAN is administered, emergency services should be called.
Accessibility to NARCAN can be vital to life-saving measures for those with substance use disorder. Some correctional facilities have free Naloxone vending machines in their lobbies so that when incarcerated individuals are released, they can take NARCAN with them before returning to society. Additionally, in the U.S., there are more than 500 NaloxBoxes mounted to exterior walls in central locations like schools, health centers, and shopping centers that provide free, 24/7 access to NARCAN. According to the official NARCAN website, residents of all 50 states can purchase NARCAN from a pharmacist under a Naloxone access law. Because immediate accessibility is imperative to saving lives, most Centerstone facilities have NARCAN available on-site.
Though NARCAN only works to reduce the effects of opioids, it is not harmful when given to someone overdosing from another substance. Whether or not you know which substance is in a person's body, it is okay to administer Narcan anyway. "It's better to be safe than sorry" adds Collins. Common signs of an overdose can include: loss of consciousness, being unresponsive to outside stimuli, breathing and/or pulse is slow, erratic, or has stopped completely, limp body, and skin discoloration.
To learn more about Centerstone's substance use disorder recovery services, visit our addiction recovery page. If you, or someone you know, is ready to start your road to recovery, Centerstone can help.
---
---