Out of One, We are Many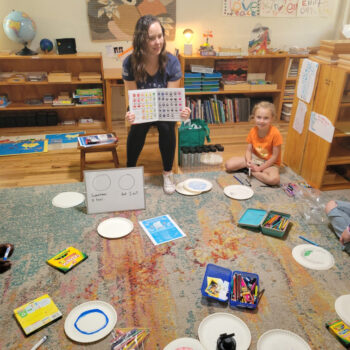 One thing I have noticed is that people often have multiple parts of their identity that are woven through the military community. Our clinics see active duty service members, Veterans, their spouses, and their children. But oftentimes people are more military-connected than one label can identify. We have clients who are military spouses and who grew up as military children. We see people who are Veterans who are married to someone who is active duty. I have done many intakes where a military spouse is also caring for a disabled Veteran parent or family member.
One of the strengths of my clinic is that we ask about each of these roles to some extent during the intake and assessment, regardless of the identity that they provide. Still, cultural competency in serving this population would suggest that counselors and staff should understand how these roles in conjunction can change the way our clients navigate their world.
I've seen this firsthand in my own journey. I served in the Navy and was junior enlisted. I was also married to a service member and I am a proud mother to two military children. My stepfather is a Veteran, and many of my closest friends are people who have deep ties to the military community in some capacity. I helped my grandmother navigate the VA burial benefits for my Marine grandfather. There are nuances that differ by branch of service, rank, and even by the area in which a person is stationed.
Being a military spouse and a Veteran is like juggling two unique roles that can sometimes clash. As a military spouse, you're constantly adapting to new places, dealing with long separations when your partner is deployed or otherwise gone for trainings or missions, and facing the uncertainty that comes with military life. It's a rollercoaster of resilience and leaning on your military spouse community for support. At the same time, being a Veteran adds another layer. I remember carrying my own memories of deployments, combat experiences, or tough times during my service. Sometimes, these memories can be challenging and bring up their own set of emotions. It was especially challenging when my military experience and treatment were so drastically different than what my spouse experienced. It can also change the way you interact with other military families. Having insight into the world of military spouses from one angle of experience while also comprehending the challenges and experiences faced by the active duty military member offers a distinctive perspective.
My first child was born during her father's deployment and I navigated that experience without my spouse. He was on a ship so the calls were infrequent and we communicated mostly through email. The Navy taught me to be adaptable and I was able to lean on my strengths and have a backup plan when things would suddenly change. As a military spouse, I also became very independent and self-reliant. Those traits helped me feel capable and strong in a time where I missed the support of my partner. If I had a client going through this with those two roles, I would want to make sure that the Veteran part of their identity did not encourage them to stay "mission focused" and ignore their feelings, while their military spouse role was honored by identifying how this experience might impact the marriage and the connection and bonds between the individual family members.
I recall many instances where these overlapping identities made it easier to understand situations like extensions and last-minute changes. It was like having a backstage pass to the military world that other military spouses missed out on. However, there were times when I felt like I didn't fully belong in either world. Many military spouses who are Veterans may distance themselves from organizations and connections like family readiness groups, base events, and the command ombudsman based on their own past experiences. By doing that, they can also disconnect from valuable services which may help them. It's essential to recognize that these dual roles bring both challenges and unique insights. By sharing our stories and experiences, avoiding narrowing down a person's identity to their most prominent role, and listening to our clients without preconceived notions of what their experience may be, we can provide better support for any who find themselves navigating these complex identities.
What are some of the multiple identities you have seen in the military community? How might we better understand all the different perspectives a person can have?
By: Elle Schlittler, Cohen Clinic at Centerstone Fellow