Snowball Express Disney in December Event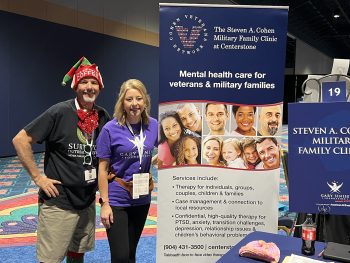 Long before his famous role as Lieutenant Dan in Forrest Gump, Gary Sinise, was inspired by his Vietnam veteran family members and sought out ways to give back to our nation's defenders and their families. His passion for giving back is evident in the foundation's Snowball Express Disney in December Event– an effort to inspire families of fallen heroes and ensure them they are never alone. This year, the Steven A. Cohen Military Family Clinics at Centerstone, our sister Cohen Veterans Network clinic in Tampa, FL, the Steven A. Cohen Military Family Clinic at Aspire Health Partners, and volunteers with the Tragedy Assistance Program for Survivors (TAPS) were privileged to participate together in Mr. Sinise's mission and incredible event. These three organizations made up a robust mental health team that were positioned to support and intervene as needed should anyone need a helping hand.
"We were honored to be asked by the Gary Sinise Foundation to not only be here for this event, but to be trusted with such an important role," Lisa Eggebeen, Regional Director of the Cohen Clinics at Centerstone said. "Many parents and children reached out to us, and, as a team, we were beyond grateful to be there to support them in their time of need."
The event was held at Walt Disney World Resort in Orlando, Florida. Over 1800 Gold Star family members attended, marking the event's return to an in-person format following previous pandemic social distancing concerns.
"The ability to be amongst one another, to share with each other was tremendous," Julie Adams, Director of the Cohen Clinic at Centerstone in Clarksville, TN, said. "This is such a special group, and to be a part of their healing, to engage and to support them meant so much to our team. This is what we strive to do each and every day – ensure our nation's heroes know they are never alone. This event showed us how important that mission is and how wonderful it is to be a part of."
Team members, had dedicated and compassionate interactions with families throughout the event. Comfortable spaces were available at all times for those wishing to express concerns day or night.
"This event not only helps honor our Gold Star Families," Eggebeen said, "It helps heal. It encourages connectivity and reminds us of the power that comes through community. We're honored to be a part of that and look forward to more magical moments with the Gary Sinise Foundation's mission in the future."