The Month of Military Children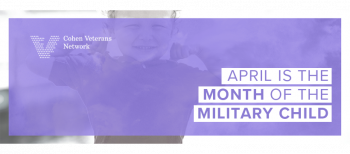 April is the Month of the Military Child, and for good reason.
Children who are raised in military families show resilience, are interesting, and are children of the world in a way that others can only dream of. Military children also deal with stressors unique to their culture. Through deployments and reintegrations, moves related to PCS, and as you work your way through the adjustment from military to civilian life, your children are often watching you to understand how to handle these changes.
So this month, we celebrate the resilience of military children while at the same time remembering our role in supporting them!
Dr. Kenneth Ginsberg names 7 C's for building Resiliency. Helping our children internalize these messages will help them build on the resiliency they already have:
Competence: I have learned things that used to be difficult for me, and I know that I will be able to learn the things later that are hard for me to understand now.

Focus on what your child has learned, regardless of the outcome. Ask your child: "What's something that made you think hard today?"
Point out to your child what you notice they have learned. It's especially difficult for a child who has learning needs to notice what they're accomplishing.

Connection: I feel connected to my school, my family, my friends or my community in a way where I can ask for help when I need it and receive the help I need.

Look for opportunities for your child or family to get involved in your community. The Steven A Cohen Military Family Clinic at Centerstone in Clarksville keeps an up-to-date Facebook page with our community room events that are open to anyone in the community to come and participate in movie night, art activities, cooking activities and more. You can also find a calendar in our clinic.
Spend time writing letters, cards, or emails to family members or friends.

Contribution: I like to contribute in positive ways to my community, and know how to find out information on how I can contribute.

What is your child passionate about? Search online or ask friends to see what opportunities to get involved may be available in Clarksville or Nashville.

Coping: I have enough coping skills to choose from when I feel overwhelmed.

Model effective coping skills for your child (deep breathing, taking a time out, focusing on what you can see or hear).
Have a Coping Skills menu displayed on the fridge as an added reminder in case any of you get stuck.
Ask your child if they want your help in solving a problem, if they just want to vent, or if they need to be alone right now. All of those are okay! Praise your child when he or she is able to verbalize this.

Control: I feel in control of the consequences of my actions, and I can accept the consequences I receive and learn from them.

Connect before you correct. Try saying something like, "I see you have a lot of energy right now and you look upset. Hitting isn't the right choice right now." Give options for other ways to deal with that feeling or to solve the problem.
Help children name their feelings. Giving feelings a name can be a powerful tool in bringing some clarity to the chaos that comes with big emotions. A great way to teach this is by modeling it yourself. When you notice an emotion, name it out loud. There are so many emotion words out there, and building your child's feelings vocabulary goes a long way in better understanding what's going on inside of them.
Set clear expectations of what behavior is acceptable and what the consequence will be, and follow through. The more consistent consequences are, the more children will know you're serious.

Character: I have a good idea of what my values are, and my choices match my values.

Model for your child the values that are important for your family (how you treat others, how you give, what entertainment you take in). Talk about why this is important to your family.

Confidence: I can try new things in new ways. If I mess up, I can recover.

Talk with your child about things he or she would like to try. Help your child break tasks down into smaller steps, if needed, to make it easier for your child to be successful.
Any time you see your child persevering and choosing not to give up, praise their effort!
Keep a list of new skills your child has learned and review these periodically.
Our military children are often forced to endure so many unique challenges, yet with those obstacles comes the opportunity to ensure we instill in them the tools to grow into strong, resilient adults. These seven C's and the tips that follow are a valuable start to that end. As parents, we have an vital role in that end so perhaps we start here. Perhaps we focus on one characteristic a week, put these tips into practice and watch our children thrive.