Talking About Trauma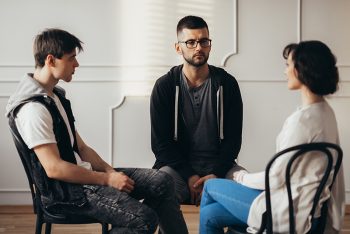 Trauma can be a hard subject to talk about. Whether it is your own, a friend's, or your child's; it is normal to have a lot of difficult and complicated emotions around this topic. So why even talk about it? Why not just push it away and pretend the bad thing didn't happen? Because the brain remembers, and our body reacts to trauma despite our best intentions to move on.
Just get over it. It was a long time ago. It wasn't that bad. Other people have it worse. No one would understand anyway. Do these statements sound familiar? Have you said it to yourself or had it told to you? You are not alone. These statements are common and yet damaging to the person and the healing process.
So, what is trauma? Trauma can be described in many ways; but simply put, it is a reaction we have a terrible thing that happened. It is a reaction we go through, whether we like it or not. They can turn into a chronic reaction such as Post-Traumatic Stress Disorder (PTSD). The bad thing can replay over and over, or we can feel lost in the memories, in life, and be unsure what to do from here. Our best efforts to cope can wain and trying to forget and pretend it didn't happen stops being effective, because it is there. It did happen.
Traumatic events can bring with them many difficult and painful emotions, thoughts, and beliefs about ourselves, other people, and the world. We can feel alone and like no one understands, or even feel a sense of shame and responsibility. This is where therapy can come in. This is where help can become so vitally important. Because we can't just forget, we can't just pretend like it didn't happen. Working with a professional can heal these wounds, increase the ability to cope, and remove some of the damaging thoughts that are holding you back.
Not speaking and staying quiet can create and continue negative consequences, such as depression, anxiety, and PTSD. Not speaking about what happened does not make it go away, it continues the symptoms that are causing issues in your life. Breaking down the barrier and opening up about the event, takes away the power of the trauma and gives it back to you. Speaking with a supportive, non-biased individual, such as a therapist, breaks down the "secret" and gives you the opportunity to genuinely heal these wounds and move forward in your life confidently and courageously.
It is difficult, and there are a lot of reasons why people do not talk about their trauma. But there is also hope, and there is strength in being honest about these experiences. You do not need to live alone in this, and you do not need to pretend it did not happen. There are several incredibly effective types of therapy, aimed specifically at assisting the recovery of trauma and PTSD. Research has shown the effectiveness of this, but they all require one thing; the willingness to heal and disclose that something traumatic happened.
Talking about trauma is incredibly difficult. It can feel very lonely and isolating to live in these memories. It takes great strength and courage to ask for help and to recognize that there is indeed a problem in continuing to stay silent. Being willing to ask for that help is the first step. It may not feel like it, but it is realistic to face these memories without drowning in them. It is possible to heal, and it starts with that first step of being willing and able to talk about it. With support and professional guidance, healing is an achievable goal.