We Are Stronger, Together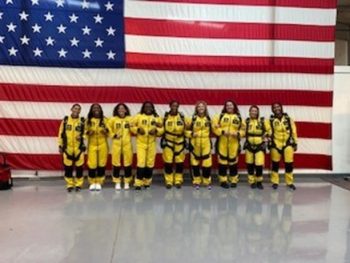 Jumps For Mental Health Awareness with The Army Golden Knights
Unite Community Around Women Veterans and Military Children
The Steven A. Cohen Military Family Clinic at Centerstone partnered with The U.S. Army Parachute Team, "The Golden Knights" for two back-to-back exciting events on April 28 and April 29 to shine a spotlight on mental health awareness.
The first event celebrated women veteran "she heroes" or "SHEroes" and other military-connected women, their mental and physical resiliency, as well as their shared sacrifice through the contributions they have made to the U.S. Armed Forces.
Attendees celebrated with tandem jumps with The Army Golden Knights. CBS Evening News attended to cover the event and interviewed Sharjuan Burgos, Outreach Director, for a story on women veterans' wellbeing for Mental Health Awareness Month.
The following day, more than 50 Cumberland County students and several educators and administrators joined our Cohen Clinic at Centerstone and The Golden Knights to celebrate Month of the Military Child with the Purple Up For Military Kids Event.
The event provided a fun, interactive day for students from E.E. Smith High School to celebrate their own mental health and resiliency as military kids. Students were treated to tandem jump demonstrations, static displays, a video game truck, live DJ and refreshments.
Several mental health leaders and advocates and community educators were in attendance, including some who participated in the tandem jump.
Additionally, former Pfc. and prisoner of war, Jessica Lynch, an educator, herself, attended both events and even jumped during the SHEroes event. During the Purple Up event, Jessica spoke to attendees about the important role mental health and resiliency played in her own life following her experience in captivity in 2003.
These events not only celebrated two of the communities we are proud to serve at our Cohen Clinic—women veterans and military children/families—but our amazing community partnerships. We are stronger, together!