Wreaths Across America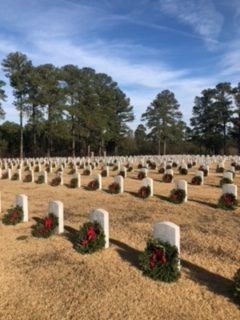 Our clinic team was honored to participate in the Wreaths Across America event on Fort Bragg, N.C. on Saturday, Dec. 18, 2021.
The children of Office Manager Shanon Moore helped during the annual ceremony, which is part of a larger, coordinated wreath-laying event that happens at Arlington National Cemetery and at more than 2,500 locations in all 50 states across the country, overseas, and even at sea.
It was a somber, meaningful way to remember our fallen heroes during the holiday season.
To learn more about this event and how you can get involved in the future, visit: https://wreathsacrossamerica.org/.