2nd Annual Responders First 9/11 Day of Service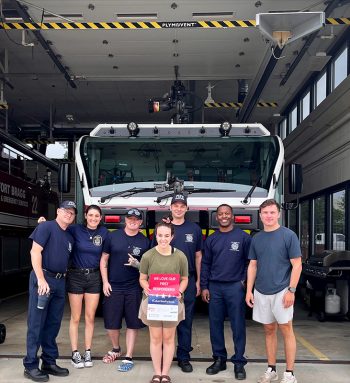 Our Cohen Clinic, along with Bubba's 33, Veteran Bridge Home, the Fayetteville Vet Center, and the Salvation Army, teamed up for the 2nd Annual Responders First 9/11 Day of Service on September 10, 2022. Volunteers delivered a free meal to more than 200 first responders in our community to show appreciation for keeping us safe every day.
This community service event was hosted to recognize the September 11 National Day of Service & Remembrance, a federally recognized National Day of Service that occurs on the anniversary of the September 11, 2001 terrorist attacks. It's a positive way of marking the day and the heroic actions of so many first responders and veterans that followed.
On September 8, 2022, Outreach Director, Sharjuan Burgos, and the event sponsors met with the fire and police chiefs and department leadership ahead of the day of service. We'd like to thank the event sponsors, all our volunteers, as well as Marci's Cakes and Bakes and Saranda Gashi, General Manager of Fit4Life Health Club in Raeford, for their donations to make our event a success.