Art Donations to Give Gift of Hope to Military Community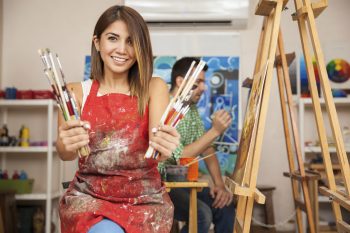 The Steven A. Cohen Military Family Clinic at Centerstone is holding an open call for artwork donations, from both amateur and professional artists, with a connection to the military community for its 5th Annual Cohen Clinic at Centerstone Community Art Show.
The Cohen Clinic at Centerstone is dedicated to providing high-quality, compassionate mental health care to our nation's heroes, and this year, the team is are asking artists to join the mission. By donating a piece of artwork, artists will be helping to ensure service men and women and their families receive the care they have so rightly earned.
"We strive to promote hope and healing at the clinic in many ways," Clinic Director, Julie Adams explained. "While we provide traditional therapy for individuals, couples and families, we also recognize and want to honor the healing power of creativity and celebrate the many talented veterans and military family members who share their story through artistic creation."
This year's show is again slated for the month of August at the clinic located at 775 Weatherly Drive, in honor of the facility's grand opening in 2018. All mediums are eligible, including, but not limited to, painting, photography, sculpture, mixed media, and pottery. All proceeds from the show's auction will go back to the clinic to further support our military families by promoting healing, connectivity and enrichment.
"We hope that contributing artists understand how grateful we are for their donations," Adams added. "By sharing their work with us, they will be providing a fellow service member, veteran or family member with the opportunity to receive the support they may need in a difficult time and truly change lives."
Interested artists are asked to fill out an Artwork Donation form which can be found at www.CohenArtShow.com. Participating artists are also welcome to showcase an additional 2 pieces of their work with their contact information for further exposure of their talent. Artists under 18 years of age are also welcome to showcase their work in a special section of the show highlighting artists of the future.
If you have questions, please call the Cohen Clinic at Centerstone at 931-221-3850 or email us at cohen@centerstone.org.