Art for Hope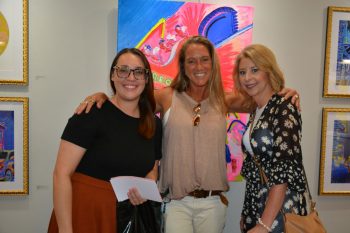 The 5th Annual Cohen Clinic at Centerstone Community Art Show is fast approaching and clinic team members are searching for artists to ensure this year's show is a huge success.
"It's really amazing how many talented artists are in our area," Meghan Williams, clinic outreach director said. "This month a few of my teammates and I took to the streets during Clarksville's Art Walk held the first Thursday of the month. Not only were we impressed with the masterpieces that adorned walls all over town, we were genuinely overwhelmed by the hearts behind the artists as so many immediately agreed to donate their work to this year's show."
Williams and her colleagues are hoping more artists will join the mission. By donating a piece of their work, artists will be giving the gift of hope and healing to military families.
"We will be creating an online auction," Scott Hudson, the clinic's communications manager explained. "The auction will open on August 7th and will showcase all the masterpieces generous artists have donated to the cause. Every dollar will go back to the clinic to help ensure we can continue to provide the support our nation's heroes have earned."
As is custom, the show will wrap up with a final night celebration on August 18th where staff will turn the clinic into a gallery. Participating artists are encouraged to come out that night and share more about their work with art show patrons.
"We truly want this event to be about the community and its support of our active duty service members, veterans and their families," Williams added. "We are a military town, we all know someone who sacrificed for our freedoms and we recognize the unique struggles they may have faced in doing so. Together we can take a creative approach to supporting them."
For more about the 5th Annual Cohen Clinic at Centerstone Community Art Show, or to donate a piece of artwork, visit the show's website at cohenartshow.com.