Avoiding Burnout: Self-Care in a Stress Filled Environment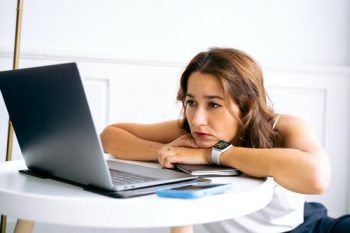 By Nicole Wells-Cimmino, LCSW
Her entire life was geared to this new career, the work, the study and preparation were all completed.  Nothing was left to chance, any optical imperfections in her perceptive lens would be corrected to be sure that nothing would be projected onto those clients who would come for help.  Therapist burnout? Ha! She would not concern herself with that. After all, she had done the work necessary to insure that this would never happen to her. But it did.
This is the insidiousness of burnout and the need for self-care whether you are a therapist, nurse, doctor, EMT or family caregiver.  It sneaks up on us and overwhelms us before we know it. The fact is that in our current environment of COVID 19, self-care is more important than ever.  The myth many of us hold is that we are endless streams of energy, bounding from one project, patient or emergency to another because we don't wish to project weakness or ineffectiveness.  This is a dangerous, if not irrational belief that can sooner or later land us into a blank state of exhaustion.  This also leads into two very important questions; what are the warning signs of burnout and how do we proactively implement strategies to deal with it?
Most importantly, let us be clear that burnout is a real thing.  In an article in the Harvard Business Review, Eric Garten reported that burnout impacts almost every area of work from excessive tardiness and absenteeism to lack of engagement.  The article noted that "burnout costs an estimated 125 billion to 190 billion dollars in healthcare costs annually.  Issues such as type 2 diabetes, high cholesterol, heart disease, gastrointestinal problems and depression all have strong links to employee burnout."  Furthermore, it is important to note that burnout can affect all of us whether we are the front line nurse or doctor in an ER, mental health therapist or counselor. Additionally, the family caregiver is particularly vulnerable as they are the ones who live with and love deeply the person they are supporting.  This may be their mother, father, daughter, son, wife or husband.  Caregivers of family members are invested in a far deeper level and they don't leave at the end of their shift.
So what does burnout look like and how does it affect us?  Burnout, for many of us can begin with overeating, alcohol or substance misuse, overspending, excessive caffeinated drink intake – the overarching theme here is "I don't have time to think about what I'm going through, I must keep moving."  It can also include difficulty concentrating due to being mentally or physically tired, or experiencing sadness, preoccupation or struggling to remain focused and generally poor self-care.  When we are burning out, getting these things done gets harder and harder and the list keeps getting longer and longer, creating additional stress, ever nearer to spinning out of control.  Burnout can look like that blank expression and pale complexion staring back at you while you're telling yourself. "I'm all good, no problem here – keep moving" or my personal favorite, "I'm the only one who can get this done."  In other words, denial of the reality in front of us.
The current environment with COVID 19 adds another layer on top of everyone's daily stressors. From people suffering job and income losses to parents who are learning to work in a virtual environment, while at the same time managing their children's home schooling or caregivers who are supporting loved ones who are suffering with COVID 19, or first responders who are trying to not to become infected as they are surrounded by the virus, there are as many possibilities for burnout as there are people.  Additionally, add even yet another layer due to the simple uncertainty of our futures or the constant influx of news about racial divisions and police brutality, whether or not the congress and senate will continue to support workers who have lost their jobs and fears that the economy will slide into a depression are further stressors that are impacting us all.  Our current environment is a minefield full of unavoidable elements that are a recipe for fatigue and burnout.  To be clear, no one is exempt as we try to ignore it or tune it out.
So, how can we be proactive in fighting burnout?  The first step is recognizing that we are not superheroes.  We are human and as humans we need to rest, eat and recharge.  Acknowledging this is a huge step in the process of self-care.  Self-care IS NOT SELFISH, it is what we do so we can be present in our work and for those we love.  We are not our best selves when we are mentally and physically exhausted.  Taking time to refresh and regroup is important if we plan on being the very best we can be in whatever we are doing.  Many times when working with a person who is burning out I will ask what is it that you really enjoy doing?  Tapping into these interests are a great source of refreshment.  These are the things that fill us and enliven us, such as crafting, playing music, dancing, singing, writing, painting or decorating.  We tend to put ourselves last on our "to do list" which inevitably we never seem to get to doing what we enjoy and what really restores and refreshes our spirit.  Turn this around and begin to put yourself first on the list.  Believe it or not, this actually helps to prioritize what is really important and helps to organize what needs to be done now and what can wait.
Regular exercise such as walking, yoga or kick boxing all are excellent ways to get our minds off of work by creating endorphins which reduce stress.  Building in three to five minutes of meditation or mindfulness practices during the day is another way we can lower the static in our minds and help ourselves to focus in the here and now.  Make sure that you are getting enough sleep.  Sleep restores well-being and helps maintain our immune systems, keeping us healthy.  Finally, it is important to reach out to people who can listen to and support you.  The old saying is as true now as it ever was, "no man is an island unto himself."
Taking time to take care of ourselves is up to us – no one can set your boundary or make you believe that you are important enough to be first on your list of to do's.  Self-care is something we do so we can be present for whoever we are being there for.  Whether they are our patients, clients, staff, father, mother, children or board members – all those who are counting on us to be 100% will always be there, but if we lose ourselves we will not be any good use to anyone.  Self-care is on us and we are worth it!!
If you are not sure if you are a candidate for burn out there are assessments for determining burnout, compassion fatigue or empathy fatigue:
https://www.compassionfatigue.org/pages/lifestress.html
https://www.bemindfulonline.com/test-your-stress