Bidding for Hope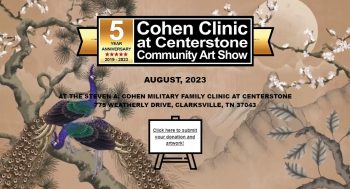 Art lovers, veteran supporters, and the community at large will soon be able to help care for our nation's heroes in a creative way.
The 5th Annual Cohen Clinic at Centerstone's Community Art Show is right around the corner and thanks to an online auction platform, those who place bids on a variety of donated masterpieces can help ensure our military families continue to receive the care they've rightly earned.
"The Cohen Clinic at Centerstone Community Art Show has been a staple for us here at the clinic since we celebrated our one year anniversary," Meghan Williams the clinic's outreach director explained. "We recognized early on through our community room enrichment classes that artistic expression can add so much to an individual's healing journey. We wanted to honor that and our military families in a unique way."
The art show features all mediums of artwork donated by veterans, military family members and area artists in an effort to ensure the Cohen Clinic at Centerstone can continue to provide high-quality, accessible mental health care to military service members and their families.
"We provide care that changes people's lives and never want cost to be a barrier to that care," Clinic Director, Julie Adams said. "We believe our service members, veterans, and their families deserve the best possible care. This annual fundraiser is one way we strive to ensure that we can continue to meet this most deserving population's needs and help them thrive."
All artwork will be featured on an online auction that opens on August 7th. Patrons visiting the site can place their bids on individual pieces of art throughout the show's run and keep an eye on it to see if their bid earns them the masterpiece of their choice when the show wraps up on August 18th.
"The online auction allows people to track their bids and see how they fair. It adds an element of fun to the show and allows more of our community to take part in giving back to those who gave so much."
For more information on the annual art show including a peek into past shows, log on to cohenartshow.com.