Boot Campaign brings holiday joy to hundreds of military families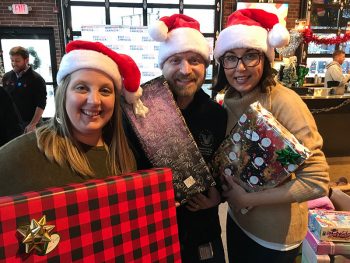 More than 400 military families across the country had a holiday to remember thanks to the Boot Campaign, a national nonprofit dedicated to serving military families in a variety of ways, and the Steven A. Cohen Military Family Clinic at Centerstone was able to help.
Staff members gathered in Nashville to become holiday elves wrapping presents for the Campaign's "Santa Boots" program. The effort strives to spread extra holiday cheer to veteran and active-duty military families who have experienced a particularly challenging time throughout the year.
Thanks to national nonprofit partnerships and the generous support of individuals throughout the country, more than 100 large packages were wrapped, packed and hand-delivered to families from Massachusetts to Hawaii, and Tennessee was no exception.
The Cohen Clinic at Centerstone identified and spread holiday cheer to a number of deserving families here in Clarksville, including one of our very own, the Goletzes, making their holidays a time to cherish.
"I cannot explain to you how grateful I was to see everyone's smiling faces in our home on a Friday afternoon," said Anna Goletz, mother of three small children and wife of Aaron Goletz, who is the Cohen Clinic data manager and deployed National Guardsmen. "My children felt so special to receive all those presents. Our Christmas spirit is completely renewed.
"We hadn't weathered a deployment in 15 years, and our children had never experienced this side of military life," she added. "The holidays should be the most wonderful time of the year, but when your dad is across the world, Christmas can feel a bit lackluster and, frankly, sad."
That is, until your doorstep is filled with Christmas elves, armed with colorfully wrapped presents and big smiles under Santa hats. At times like that, as Goletz said, the magic of the season is restored.
"This was absolutely unexpected," she said. "I am still not sure I deserved it, but I want to say that from the bottom of my heart I am so thankful. Aaron and I have decided that next year, when he is home, we would like to volunteer and donate along with the Boot Campaign so that we might be able to shower another military family with the love and kindness that was shown to us."
They will get their chance. Plans are already in the works for next year's Santa Boots program, and both the Goletzes and fellow Cohen Clinic staff members will be there with holiday bells on.