Celebrating BIPOC Mental Health Awareness Month Through Outreach All Year Long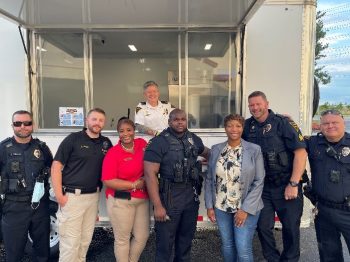 July is Black, Indigenous and People of Color (BIPOC) Mental Health Awareness Month, formerly known as "Minority Mental Health Awareness Month." Why use the term "BIPOC" Mental Health Awareness Month instead of "Minority Mental Health Awareness Month? Because the way we talk about things can influence the way we think about them.
Understanding the Why: Access
In addition to accurately capturing who this month acknowledges, it is important to understand why the awareness month is needed. In many ways, it comes down access.
Every year millions of Americans are faced with the reality of living with a mental health condition. These conditions do not discriminate based on race, color, gender or identity, and anyone can experience the challenges of mental illness regardless of their background. However, a person's background and identity can make access to mental health care much more difficult to obtain.
For BIPOC, barriers to mental health care access may include: insurance coverage, cost of treatment, language, prejudice and discrimination, cultural stigmas, having transportation and even one's geographic location.
Breaking Down Barriers Through Outreach
At the Steven A. Cohen Military Family Clinic at Centerstone in Fayetteville, N.C., reducing barriers to mental health care treatment is at the heart of everything we do. This includes our outreach work to break down walls and build bridges in the community we serve.
Our Outreach Director, Sharjuan Burgos, recently had the opportunity to participate in one such outreach event, Fayetteville-Cumberland County's Operation Ceasefire Movie Night at Manna Church.
Operation Ceasefire is a community movement to bring agencies and leaders together to "improve the quality of life for all residents of Fayetteville-Cumberland County by reducing gun and gang violence."
Movie goers were treated to FREE popcorn and drinks, a screening of Angry Birds and access to information on community services, including our Cohen Clinic at Centerstone.
"The opportunity to connect with citizens of so many backgrounds in our community in this kind of relaxed setting is not only fun, but also a great way to break down communications barriers and educate the public that our clinic is here to support them in their mental health care," says Burgos.
She continues, "It's about meeting people where they are, and that's what our clinic tries to do with every outreach event we participate in."
Operation Ceasefire FREE Movie Nights are held weekly (weather permitting) at different locations around the county throughout the summer. For more information, visit @OperationCeasefireFayetteville on Facebook.
"Our Cohen Clinic welcomes increased public awareness and conversations on the destigmatizing of mental health illnesses that many of those in the BIPOC community face when accessing mental health support," says Burgos.
Continues Burgos, "Together, we can recognize our shared vision of a nation where anyone affected by mental illness, can receive the appropriate support and excellence of care to live fulfilling and healthier lives. No one should feel as if they must struggle alone."
To find out where our clinic will be next in the community, connect with us on Facebook, Twitter and Instagram. We will see you out there!
SIDEBAR:
What's In a Name?
Why are we updating the way we refer to Minority Mental Health Awareness Month to BIPOC Mental Health Awareness Month? Using terms like "minority" or "marginalized" refers to BIPOC communities in terms of quantity instead of their quality. The word "minority" also emphasizes the power differential between "majority" and "minority" groups and can make BIPOC feel as though "minority" is synonymous with inferiority. We use "BI" in addition to "POC" for people of color to uplift the unique experiences of Black and Indigenous individuals and communities.