Celebrating Month of the Military Child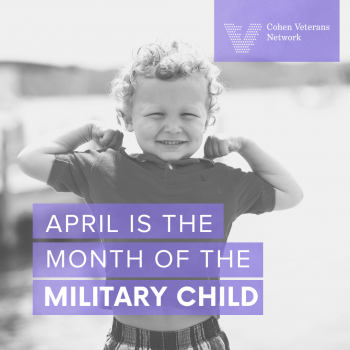 While April is Month of the Military Child, The Cohen Clinic at Centerstone celebrates military children all year long. We know that when a military mom or dad serves, their entire family serves, too, especially children! We offer programming geared to support our military children and families.
The Cohen Clinic offers:
Client-centered mental health therapy for individuals, groups, couples, children and families.


FREE on-site child care for clients! Pre-registration is required by visiting https://www.asymca.org/fort-bragg-home and creating an account under MyASYMCA. For more information about this service, contact our partners Armed Services YMCA – Fort Bragg, NC at 910-436-0500 or our clinic at 910-500-1800.


Special outreach events geared towards military children and military families. For example, later this month, our clinic will partner with The U.S. Army Parachute Team, "The Golden Knights" to Celebrate Month of the Military Child with the event, Purple Up For Military Kids – a fun, interactive day for Cumberland County students to learn about mental health and resiliency.
Military families and military children are top of mind for our Cohen Clinic team, especially as our community copes with recent deployments to Europe. Our clinic director, Jennifer Smith, recently spoke with ABC 11 about the impacts of these deployments and what families can do to support their military children right now. Cohen Clinic is here to help your entire family get back to better. For mental health support, please call us at (910) 500-1800 and visit our website.