Centerstone grows partnership with Cohen Veterans Network to include clinic in Fayetteville, North Carolina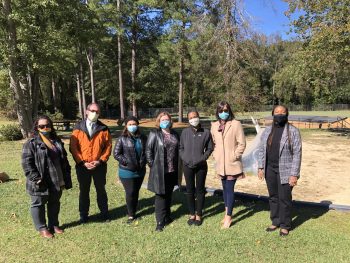 The location is the third Steven A. Cohen Military Family Clinic operated in partnership between Cohen Veterans Network and Centerstone.
Nashville, Tenn. — Centerstone, a nonprofit health system with nationally available mental health and substance use disorder services, has grown its partnership with Cohen Veterans Network (CVN) to include the operation of the Steven A. Cohen Military Family Clinic in Fayetteville, North Carolina, effective November 1. CVN is a nonprofit philanthropic organization that serves post-9/11 veterans and their families through a nationwide system of mental health clinics.
Centerstone, whose military services have long provided tailored mental health care to the military community, has partnered with CVN since 2018, and currently operates two other Cohen Clinics – one in Clarksville, Tennessee and the other in Jacksonville, Florida. Through the expanded partnership, the Cohen Clinic in Fayetteville will continue to serve post-9/11 veterans by offering high quality, comprehensive mental healthcare, regardless of discharge status or role. Active- duty military members and their families, including spouses, partners, children, parents, siblings, and caregivers can also receive care through the clinic.
The Fayetteville location is available to serve the more than 100,000 post-9/11 veterans and military family members in the area and since opening in summer 2017 has treated more than 1,300 clients as one of CVN's first locations.
"We are thrilled to make this announcement during Military Family Month and to further develop our partnership with Cohen Veterans Network," said Dr. Bob Vero, regional CEO at Centerstone. "Centerstone has a long history of providing specialized mental health services to members of the military and their families and partnering with CVN to operate the Fayetteville clinic will help us to build on our successes in treating our nation's heroes. We are already looking forward to adding new technology and programs in early 2021, all powered by a great team on the ground in Fayetteville."
Care is being delivered entirely via CVN Telehealth during the pandemic. Telehealth is face-to-face video therapy that allows clients to have appointments in real time through confidential video conferencing. Therapy via telehealth has been shown to be equally as effective as in-person therapy.
The Steven A. Cohen Military Family Clinic at Centerstone in Fayetteville is located at 3505 Village Drive and can be reached by calling 910-500-1800 or by emailing cohenNC@centerstone.org.