Children in Harmony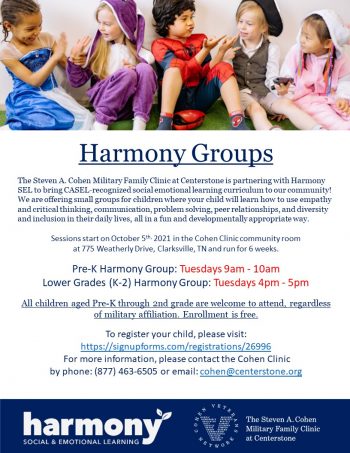 The Steven A. Cohen Military Family Clinic at Centerstone is expanding its child services. The clinic has partnered with Harmony SEL to bring CASEL-recognized social emotional learning curriculum to our community!
"We plan to implement small groups for children to support the military connected child in the development of social skills outside of the therapy setting," Julie Adams, Assistant Director and lead clinician said. "This will expand Harmony's Social Emotional Learning reach from school settings to a mental health setting. Children will learn how to use empathy, critical thinking, communication, problem solving, peer relationships, and diversity and inclusion in their daily lives, all in a fun and developmentally appropriate way."
Sessions will begin on October 5th in the Cohen Clinic community room located at 775 Weatherly Drive, Clarksville, TN and run for 6 weeks.
Currently the clinic plans to hold Pre-K groups on Tuesdays from 9am – 10am and lower grades (K-2) on Tuesdays from 4pm – 5pm. All children aged Pre-K through 2nd grade are welcome to attend regardless of military affiliation and enrollment is free.
"We've all faced difficult times recently. Our children are no exception," Adams said. "They have missed out on so much in the past year simply by not being able to attend school in person and interact socially. They need our support maybe now more than ever. These practices are effective and we believe offering these opportunities will go a long way to providing our children with the skills to thrive."
For more information on children's Harmony Groups contact the Cohen Clinic by phone at (877 ) 463-6505 or email cohen@centerstone.org. To register your child, please visit https://signupforms.com/registrations/26996