Coming Together for Military Families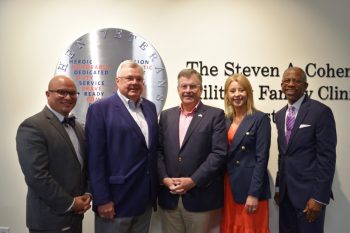 From day one, staff inside the Steven A. Cohen Military Family Clinic at Centerstone knew to truly support our nation's heroes we needed to work together. Not just inside clinic walls, but outside them as well. We needed community support, valuable partners that shared our mission and were as eager as we were to ensure our military families received the best possible care in all aspects of their lives. This past month, we were honored to host those organizations and supporters in order to rightly thank them for all that they do.
"This 'Coming Together Celebration," Julie Adams, Clinic Director said during the night's event, "is our way of appreciating our community partners and those who have worked so hard to support us. We're honored so many came to share their evening with us including our special guests, Senator Bill Powers and Representative Curtis Johnson, who worked tirelessly to ensure Centerstone Military Services and our clinic are able to continue to provide high-quality care to our active duty service members, veterans and their families."
The July 29th event featured brief remarks by Centerstone Leadership as well as both Senator Bill Powers and Representative Curtis Johnson, each thanking attendees for their efforts in supporting our military families.
"I'm grateful each day that we are surrounded by so many caring organizations and that I have the pleasure of working alongside them," Meghan Williams, clinic outreach director said. "I think our speakers tonight expressed that gratitude beautifully. It takes each of us and the work that we do to ensure our military families thrive." Further attendees at the event included representatives from the Cohen Clinic at Centertsone's Advisory Council, the Department of Veteran Affairs, the Montgomery County Veterans Coalition, Operation Stand Down and more.