Community Partner Spotlight: K9s For Warriors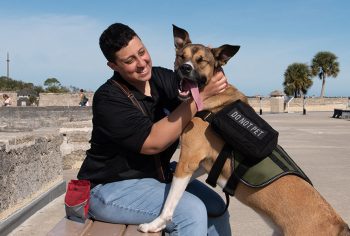 K9s For Warriors is the largest provider of service dogs for veterans in the United States.
K9s For Warriors, a non-profit organization dedicated to preventing veteran suicide, provides highly trained Service Dogs to military veterans suffering from PTSD, traumatic brain injury, and/or military sexual trauma. With the majority of the dogs coming from high-kill rescue shelters, this innovative program allows the K9/Warrior team to form an unbreakable bond, which aids in their collective healing and recovery.
Every day, roughly 20 veterans commit suicide, and K9s For Warriors is determined to change that. K9s For Warriors exists as a result of a passionate commitment to saving the lives of both veterans and rescue dogs. This program, which is supported by scientific research, enables veterans who fought for our freedom to live a life of dignity and independence. Graduates of the program are able to live lives they never imagined were possible. Many have reconnected with their families, returned to school, found new joy in life, and reduced their medication significantly.
As a part of our partnership, the Steven A. Cohen Military Family Clinic at Centerstone conducts monthly new hire orientations where we train the K9s team on Mental Health Awareness. This includes everything from psychoeducation on Post-Traumatic Stress Disorder, Traumatic Brain Injury and Military Sexual Trauma, all the way to how to respond to and manage Acute and Chronic Stress.
To learn more about K9s For Warriors, or to sign-up or donate, please visit their website at https://k9sforwarriors.org/.