Community Partner Spotlight – The Montgomery County Veterans Treatment Court (VTC)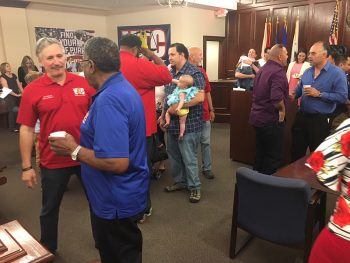 Here at the Steven A. Cohen Military Family Clinic at Centerstone, we are grateful for the many community partners that share our passion for caring for our military veterans and their families. We are honored to work alongside these organizations as together we ensure our nation's heroes and their loved ones know they are never alone. Here is a closer look at one such partner: the Montgomery County Veterans Treatment Court.
Every Tuesday, veterans who find themselves in the criminal justice system are earning a second chance. The chance is not easy to secure, but for those who struggle with the unique challenges a life of service demands and endure mental health concerns or develop substance abuse problems, the Montgomery County Veterans Treatment Court can be a saving grace.
The program is intensive. Veterans must meet all the demands of the court, including regular appearances, work or school requirements, case management check-ins and appropriate mental health or substance abuse counseling, but once completed, eligible participants may have their charges dismissed, nulled or reduced.
"This is not a free ride out of a charge," said David Smith, VTC case manager. "It allows veterans and those still remaining in the service a chance to learn some skills to just cope and deal with those things that are bothering them, and not be so ashamed of possible mental health issues."
Smith and his VTC teammates work diligently with each participant to ensure they receive the support and resources needed to improve their personal situations. Whether it be employment opportunities, substance abuse rehabilitation or mental health care referrals to resources such as the Steven A. Cohen Military Family Clinic at Centerstone, the team and its volunteer mentors are dedicated to seeing each participant succeed.
"The opportunity this program provides for struggling veterans is incredible," said Lindsey Chantler, former court coordinator. "It is simply amazing to watch participants grow and thrive as they go through the program. It truly does change lives."
The Montgomery County VTC has been changing lives for more than six years. It was the first of its kind in the state, and remains the most utilized. In fact, the program honored more than 20 participants last month, its largest graduating class since its inception, by promoting them from phase IV, the final court-mandated phase of the program, to phase V, VTC for life, which guarantees that veteran knows they are never alone. If needed they could call on the team for support at any time – a promise Judge Ken Goble Jr. believes is rightfully earned.
"They sign on the dotted line that says I'm willing to give up everything for my country," Judge Goble said. "So why shouldn't their country give up a little for them?"
More information on the Montgomery County VTC can be found on the court's website.