Day of Giving – Willow Branch Park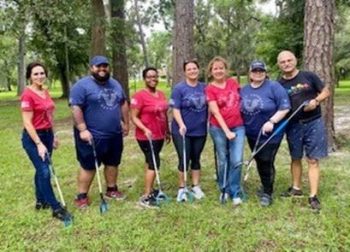 As part of their Day of Giving activities, the team at Cohen Clinic at Centerstone, Jacksonville volunteered for beautification duty at Willow Branch Park in support of the AIDS Memorial Project of Northeast Florida.
"AMP President, Richard Cariello was a terrific host," said Clinic Director Liz Sherr. "In addition to helping with the beautification of the park, each of us was given a card with a name of a veteran in the community who died from AIDS for placement in Willow Branch. The park has the names of people lost to AIDS on trees, benches and the Serenity Mural."
Willow Branch Park is symbolic and steeped in the history of the LBGTQ+ movement in Jacksonville dating all the way back to the 1920's. Once completed, the park will have the names of 7000 citizens throughout and a yellow brick road over a glass bridge, flanked by two steel trees leading to a massive sculpture and illuminated sphere.
To find out more about the AIDS Memorial Project or to make a donation, please visit https://jaxaidsmemorialproject.com/