Five Tips to Combat Stress this Holiday Season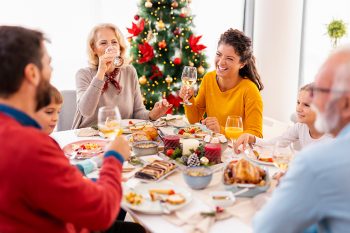 The holiday season is in full swing and while holidays are filled with celebration and gratitude for some people, it can also be a stressful time of year. Here are a few tips to help you make the most of your holidays:
Stick to your exercise regimen. A packed holiday schedule can make sticking to any routine difficult, but exercise has been proven to relieve stress. Even just 20 minutes a day can better prepare you to deal with that busy schedule.
Create rules of engagement for controversial topics. Your family members may have very different perspectives and opinions. To avoid creating a stressful environment, decide in advance what you are comfortable discussing and consider setting boundaries around conversation topics.
Give yourself time to reflect or grieve. Holidays can change for us over time. The season may bring up tough memories or cause you to miss a person or tradition. Allow yourself time to reflect or grieve if you need it. This can be especially important for those who have experienced loss and for families who are separated by deployments.
It's okay to decline invitations. It can be difficult to say "no" but avoid overcommitting to holiday activities. Don't be afraid to decline an invitation if you do not have time in your schedule.
Real life is not a holiday card. Holidays rarely look like the picture-perfect cards we send and it's easy to get caught up in the pressure of what you 'should' do for the holidays. Instead, set reasonable expectations for yourself and others, and remember what you value most about the holiday season – whether that's celebrating your faith, spending time with loved ones, taking a break from work, or giving back to your community.
If you find yourself struggling this holiday season, or any season, remember that you are not alone. If you need additional support, here are a couple other resources below:
Tools for Stress and Worry Course – Cohen Veterans Network designed a free, self-paced course specifically for veteran and military families to help manage stress and worry. Through a series of brief and flexible modules, you can learn new tools and techniques to manage stress and worry. The course was developed by mental health experts with input from military family members themselves.
Our clinic provides confidential, high-quality mental health care to post-9/11 veterans, service members, and their families. You can access care in-person or via Telehealth. Call us today!
988 – If you are experiencing a mental health emergency and are in immediate need of assistance, please reach out for support through a crisis phone or text line. Call the Military / Veteran Crisis Line by dialing 9-8-8 or text 838255.