Girl's Circle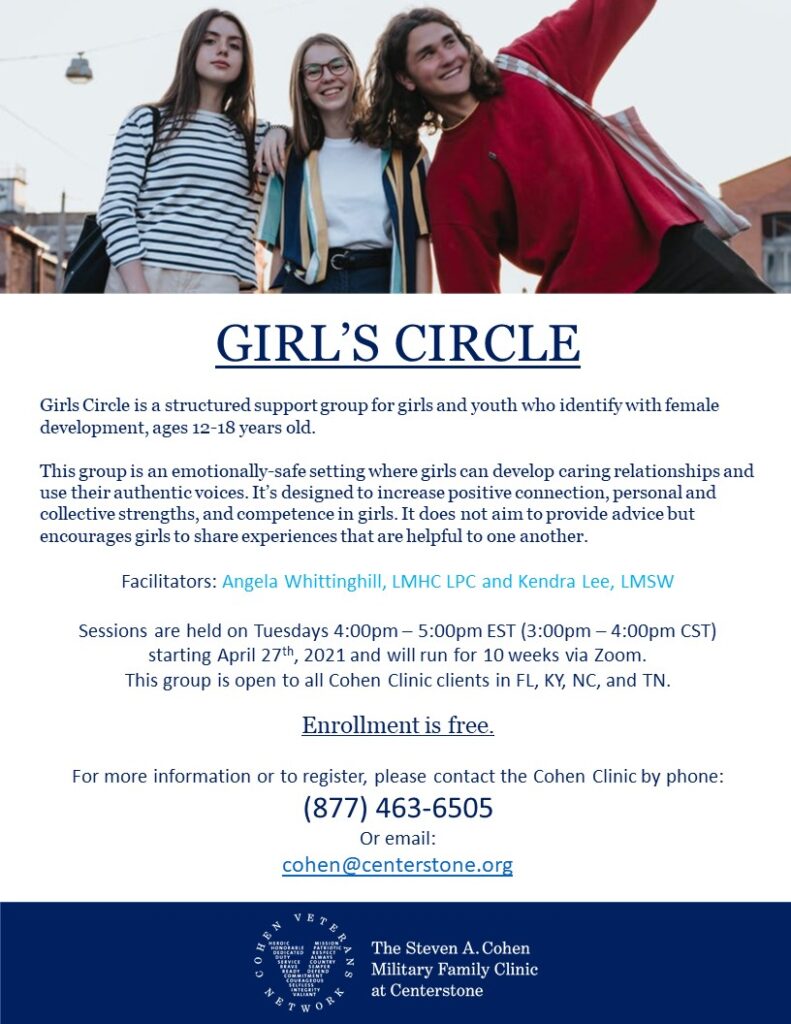 It can be tough being a girl. Ask most adolescent ladies and they'll agree. Between friendship challenges, body image concerns and competition, the road to growing up can be paved with struggles. Yet, it doesn't have to be if the right support is in place. That's exactly what Girls Circle, a new group coming to ladies 12-18 years old at the Steven A. Cohen Military Family Clinics at Centerstone, is ready to offer.
"This group is focused on encouraging girls to share experiences that are helpful to one another," Angela Whittinghill, therapist at the Cohen Clinic at Centerstone and group facilitator said. "Each week girls will be given the chance to talk and listen to one another respectfully about their concerns and interests in a safe environment free of judgement."
Girls Circle is the FIRST gender-responsive program in the country to demonstrate effectiveness in reducing delinquency for girls. It's listed in SAMHSA's National Registry of Evidence-based Programs.
Girls Circles are most often held weekly for 1 1/2 to two hours. Each week facilitators, like Whittinghill, lead the group through a format that includes each girl taking turns talking and listening to one another respectfully about their concerns and interests. The girls express themselves further through creative or focused activities such as role playing, drama, journaling, poetry, drama, dance, drawing, collage, clay, and so on.
"The Girls Circle does not aim to provide advice, rather, it is designed to empower participants by offering support and understanding," Whittinghill said. "To participate, girls need only have the desire, make a commitment to attend the meetings, and agree to follow the circle guidelines, i.e. respect, no put-downs or interruptions, offer experiences – not advice, keep the focus on oneself, and keep what's said in the group private."
Girls are free to share at their own pace and will be led through discussions on gender specific themes and topics such as being a girl, trusting oneself, friendships, body image, goals, sexuality, drugs, alcohol, tobacco, competition, and decision-making. The girl's adolescent group begins April 28th and will be held on Tuesdays from 4:00pm – 5:00pm EST (3:00pm – 4:00pm CST) for 10 weeks. For more information on this group or any offerings at the Steven A. Cohen Military Family Clinics at Centerstone call 1-877-463-6505.