Giving Back for Family Fun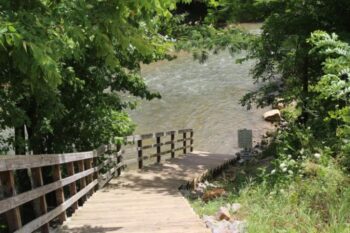 For more than a year, the world has faced unprecedented times. Social distancing guidelines and the unique challenges they present have left many struggling in various ways and our children are no exception. Now, as the COVID-19 vaccine becomes more available and gathering restrictions are slowly lowered, the desire for family outings and making memories outdoors may be stronger than ever. That's why, the staff at Centerstone are volunteering to get their hands dirty to clean up a local Clarksville hot spot in honor of the Month of the Military Child.
"This past year has affected all of us," Meghan Williams, outreach director at the Steven A. Cohen Military Family Clinic at Centerstone said, "and that goes for our kids too. In many cases they've been cooped up inside. Kids deserve the chance to get out and play. We want to ensure they have a beautiful spot to do that and volunteering to make it happen seemed like the least we could do for our area kids."
Centerstone is teaming up with Clarksville Parks and Recreation to determine which of Clarksville's area parks could use the most sprucing up.
"This time of year our parks become family favorites and we have a lot of them," James Barrineau, Clarksville Parks and Recreation Maintenance Manager said. "We're grateful that Centerstone reached out to help us ensure these hot spots remain beautiful for our area kids to enjoy."
The clinic's volunteer team will get busy on Saturday, April 24th at 11:00am. They plan to work until the job is done.
"We want to give back to our community in as many ways as we can," Williams said. "As a military town we thought honoring the Month of the Military Child like this would be a perfect way to do that – by, hopefully, helping our military families and the community at large get back to some outdoor fun."