Giving Back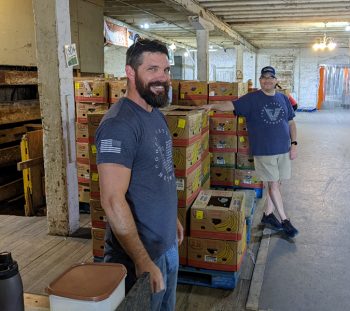 Here at the Steven A. Cohen Military Family Clinic at Centerstone, we are honored every day to serve our nation's heroes, but we know it takes more than what we offer to truly support this most deserving population – it takes a community and we strive to make that community strong. That's why it was our pleasure to join Manna Café Ministries this month in their mission to give back to those in need.
"We want to be a valuable community partner any way we can," Julie Adams, Clinic Director said. "There are so many gracious organizations in our community doing their part to make Clarksville a better place to call home. Manna Cafe' is one of those and the work they do is making a huge difference to those who need it most."
The Cohen Clinic at Centerstone team came prepared to do their part as volunteers this month and jumped right into line, literally.
"Manna Café organizers are, well, organized," Venee Hummel, the clinic's Assistant Director said with a smile. "They have their mission down pat and graciously showed us the ropes. We were honored to give them a hand and humbled by all that they do for our community."
Manna Café Ministries was started by Kenny York who was inspired to create the non-profit after overseeing a weekly meal for the homeless and financially burdened. Today his goal is to first meet people's basic need for food, and then guide them toward positive, permanent change.