Gold Star Game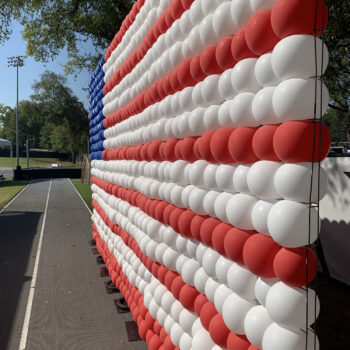 The Steven A. Cohen Clinic Military Family Clinic at Centerstone is dedicated to serving our nation's heroes, not just within the clinic's walls, but throughout the community. Sometimes that support comes in ways that are hard to describe. Saturday, September 23rd was one of those days.
The weather was perfect, albeit a bit warm, temperatures were in the nineties, but the heat couldn't take away from the importance of this day. Vanderbilt University was honoring more than 300 Gold Star Family Members during the University's football game, and Cohen Clinic team members were honored to help support the tribute.
"This is what we do," clinician David Smith explained. "We work every day to ensure our military families know they are never alone. For Gold Star Family members, days like today are priceless. They are shown their loved ones are not forgotten and that we will stand beside them."
That's exactly what staff did. They joined this most deserving population for a tailgate hosted by Vanderbilt just outside the stadium in honor of their sacrifices. Then the joined them again, standing  shoulder to shoulder at the game, quietly reminding families that people care – the University cares, the players care, Cohen team members care, and even the strangers in the stands care.
"Vanderbilt leaders truly understood the importance of this day," Smith continued. "They recognized that for some, the day may be overwhelming and asked if we could provide a bit of clinical support should someone need a person to talk to. We were honored to be there and share in the day."
The University created special programming that played on the stadium's scoreboards throughout the game, including a message from coach, Clark Lee, thanking those family members in attendance and explaining that players would be wearing special jerseys honoring their fallen service members. Fort Campbell, KY's, 10st Airborne Division orchestrated a perfect flyover, and every hero was recognized.
"I can't say it wasn't emotional," Meghan Williams, the clinic's outreach director shared. "Many of us live in Clarksville where we see Army helicopters grace our skies daily. Yet, today, when the 101st conducted a perfectly timed fly-over and the names of the fallen scrolled across the scoreboard, I think everyone felt something special – united maybe, in honor of the heroes we've lost and their loved ones amongst us in the stands. It was humbling and beautiful."