Green Thumb Healing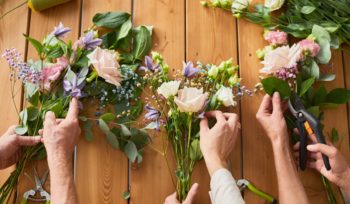 Gardening is healing. U.S. Army veteran, Charley Jordan, knew it from a young age, now he's sharing it with anyone who's willing to listen.
Charley was first introduced to agriculture when he was 10 years old. Living in South Dakota at the time, he was surrounded by farmers and played with their kids. He quickly learned that getting his hands dirty and watching something grow gave him a sense of peace. It continued to ground him during his years of service and after every deployment as a former Special Operations Aviator.
"All I knew at the time was that farming made me happy," Jordan said in an interview with Tennessee Home & Farm. "I saw how I would be gone on a deployment and as soon as I would come home, it was just amazing the feeling I got from going out and seeing my cows again. I was thinking to myself, 'How could this benefit other veterans?'"
That question has spawned Charley's latest mission. After 28.5 years in the military, he now supports his fellow brothers and sisters in arms by helping them experience the healing power of planting by actively gives of his time and sharing his talent for gardening. He encourages fellow veterans interested in agriculture to pursue it and helps them every step of the way. He's even hosting classes at the Steven A. Cohen Military Family Clinic at Centerstone.
"It's hard not to be inspired by Charley," Meghan Williams, Outreach Director at the Steven A. Cohen Military Family Clinic said after spending the afternoon in Charley's recent gardening class in the clinic's community room. "He is extremely passionate about the power of gardening. It's contagious."
In the May class, Charley explained his history with agriculture, gave an overview of his farm, Jordan Farms, and guided participants through a lesson on growing sunflowers.
"We are so grateful Charley is willing to share his talents with us and hope our veterans and military family members join us for his class next month. They may be surprised and find themselves hooked on a new hobby," Williams said. "Put it this way, he even got me to try my hand at it and I am notorious for my gardening failures. He'll be proud to know, that my sunflower is thriving thanks to him."
Charley plans to visit the clinic again on July 13th from 11:30-1 pm. This time, he's bringing his Jordan Farm flowers and helping participants make one-of-a-kind bouquets.  To sign up, please visit: https://form.jotform.com/221575700554151