Groups and Workshops – Spring 2019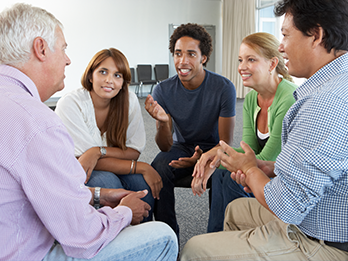 The Cohen Clinic hosts regular programming for veterans and their family members. For more information and to sign up, contact Outreach Manager Meghan Williams at meghan.williams@centerstone.org
Monday:
Access Group (King Counts and Nancy Bandel)
4:00 pm – 5:00 pm
Access group is intended to provide support, information and encouragement for clients who have completed their eight to twelve session program with their individual therapist and who need ongoing support. We do psychoeducation and open discussion of coping skills and members can share ideas as to how best to work through challenges. This group is a safe space and any information shared with the group will stay within the group.
Better Ways: Developing Tools to Live a Healthier Life (Kevin Cuchia)
5:00 pm – 6:00 pm
This is a psychotherapy group for people who desire to reduce, or stop, their substance use. This group is open to veterans and adult family members of veterans. Group members must be an enrolled client of the Cohen Clinic before participating. This group may not meet legal participation requirements for certain court programs. It is the participant's responsibility to ensure approval and compliance.
Tuesday:
Chronic Pain Group (Elizabeth Sherr)
11:00 am – 12:00 pm
Utilizing Cognitive Behavioral Therapy for Chronic Pain (CBT-CP) will encourage participants to adopt an active problem solving approach to managing the challenges associated with chronic pain. Techniques such as guided imagery, mindfulness mediation/relaxation, SMART goal formulation, coping styles, cognitive restructuring and sleep hygiene will be covered. The group will foster an understanding of thoughts, beliefs, and behaviors and how social environments can impact chronic pain, encouraging healthy behavioral and lifestyle changes.
Combat Veterans Group (Don McCasland)
2:30 pm – 3:30 pm
This group is for Post 9/11 combat vets, facilitated by a Post 9/11 combat vet. We will focus on issues related to transitioning from a combat/military environment to a civilian environment, with a focus on: relationships and communications with people who "don't get it", changing from a structured life to a life where "anything goes, and no one cares about standards", guilt and shame, goal setting, feelings of a loss of comradery, and much more.
Next Steps (Kendra Lee)
5:00 pm – 6:00 pm
This group is a weekly information session to offer support to clients before they begin therapy. Topics covered include: What is Evidence Based Practice? Explanation of screeners and assessments during intake and how progress is tracked. Self-Care. Mindfulness. Coping Skills. Local Area Resources and Outreach opportunities in this community.
Wednesday:
R E C H A R G E: A Caregiver Support Group (Leahanna McDonald)
9:00 am – 10:00 am
This is an open support group for the caregivers of veterans, wounded service members, and children/family members with special needs. This group will focus on self-care, psychoeducation, the caregiving life style and empowerment, with the goal of reducing stress and improving quality of life. This is also a time to connect with others who may share your experiences, understand what you are going through, and develop a peer support network.
Post 9/11 Women Veterans Group (Elizabeth Sherr)
12:00 pm – 1:30 pm
This group is for post 9/11 women veterans. The group will focus on interpersonal skills and coping strategies. Weekly topics will include: communication skills, relationships, navigating life outside of the military, goal setting, women veterans' health, comradery and much more.
Thursday:
Girl Power: A Support Group for Adolescent Girls (Tammy Leininger and Brittany Wilhelm)
4:00 pm – 5:00 pm
Together we'll focus on positive ways to manage stress and other emotions, and build healthy interpersonal skills. Weekly topics will include: Assertive communication, Problem solving, Building resilience and self-esteem, Naming and taming feelings, Trust and intimacy and more!
Friday:
PTSD and the Family: Adjusting and Thriving (Don McCasland)
10:30 am – 12:00 pm
Lead by a clinician who's a veteran that has struggled with PTSD and the effects it had on his family, but was able to overcome it. Topics discussed include, PTSD Symptoms, Causes of PTSD, How PTSD effects not only the mind, but the body, Why trauma survivors react the way they do, How PTSD effects relationships with family and friends, and Helpful tips and ideas to help you.