Helping Our Communities Become Childhood Trauma-Informed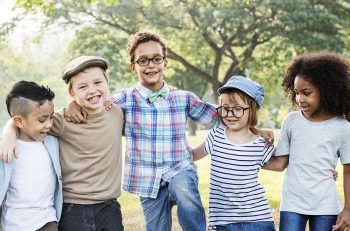 Our littlest heroes may soon benefit from recent efforts made by the Steven A. Cohen Military Family Clinic at Centerstone team.
Clinical staff members are coming together to ensure our communities are trauma-informed, ultimately giving individuals the tools to recognize the signs of childhood trauma and how best to support children in need.
"This initiative is near and dear to my heart," Clinic Director, Julie Adams said. "I have a commitment to working with children and helping them heal after experiencing trauma. This work is so important and, thanks to a recently awarded grant, we are now able to invite community agencies, schools and individuals to join us in better supporting our military children by offering trauma-informed trainings."
Adams and David Smith, Fellow with the Cohen Clinic at Centerstone recently provided the clinic's first trauma-informed training to members of United4Hope, Operation Andrew Group, a Nashville area non-profit comprised of volunteers that partner with public schools to support the mission of the school system. Participants were church members, teachers and health care professionals providing services to youth and vulnerable populations.
"Our hope," Adams said, "is that by bringing knowledge of the impact of childhood adversity and trauma to the forefront and by offering individuals the opportunity to learn best practices and engagement tips, our communities will be stronger and are children will not only feel safer, but better supported as well."
Clinicians at the Cohen Clinic at Centerstone have developed a variety of child trauma-informed trainings covering a number of concerns including: childhood adversity, child trauma and how the impact of trauma effects the developing child. Trainings also offer hope by exploring protective factors and ways that adults can support children exposed to adversity and trauma. The team is prepared to offer these courses and Youth Mental Health First Aid classes to any area group that may be interested in increasing their knowledge in this area and ensuring our children in need begin to heal.
"We have a few interested schools and agencies already lined up for these offerings," Adams said. "We couldn't be more pleased. We are eager to train community members and we encourage any organizations who would like to know more or set up a training for their team to please give us a call. Together we can build trauma-informed communities and best meet the needs of our children. "
For more information or to schedule a presentation please call the clinic at 931-221-3850 or feel free to email the clinic's outreach director, Meghan Williams, at Meghan.williams@centerstone.org.