One Reason for the Annual Art Show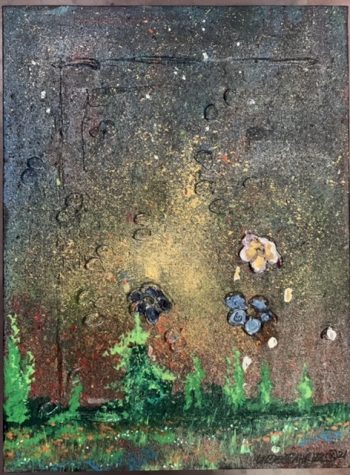 Uriel Zahriel can't remember a time when artistic expression didn't call to him. As a young child he'd often find himself with a pencil in hand drawing or doodling before he even realized he was doing it. By the age of 12 he was painting his first canvas.
"Art was therapeutic for me even back then. I may not have known it as that, but that's what it was," Zarheil said. "I find myself lost in the process and when a piece is completed it's almost like being found."
Zarhiel is one of the many veteran and military family artists the Steven A. Cohen Military Family Clinic at Centerstone is honored to celebrate coming up during its 4th Annual Cohen Clinic at Centerstone Community Art Show. First held in 2019 in recognition of the clinic's one year grand opening anniversary, the event aims to share the talents of military service members, veterans and their loved ones with the community at large.
"We believe in being more than just a mental health clinic for our clients," Lisa Eggebeen, regional director of the Cohen Clinics at Centerstone said. "We want to be a source of encouragement, engagement and support for all military families. One way we do that is through community room events that often feature creative outlets. It was through these activities we learned just how talented some of our veterans are and how important the arts are to their healing."
This year's show will be held throughout the month of September at the Customs House Museum in downtown Clarksville and promises to highlight various works of art depicted in a multitude of mediums. All portraying the heart and soul of artists who have stories that deserve to be told.
In the case of Zarheil, that story is one of resilience and hope.
"Art has allowed me to mentally process what I've been through as a soldier and now, a civilian," Zarhiel said. "It has significantly helped me with my PTSD and I hope when people view my work they see a part of me, what I felt when I created it and are encouraged that they too can overcome life's challenges." Military and Family Member artists looking to display their work in this year's show still have plenty of time, simply visit the art show's website http://cohenartshow.com/for submission forms and details. All work will be collected at the clinic in early August in preparation for the show.