Holiday Happenings at Cohen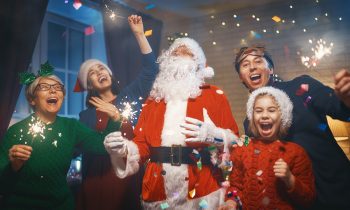 Festive Fun
We decked the halls for a holly jolly good time at the Steven A. Cohen Military Family Clinic at Centerstone this month and welcomed more than 50 festive friends to the party.
Last year's Pizza, Painting, Pajama Party was such a huge success, organizers wasted little time in deciding to host the event again this year.
"What's better than pizza in your pajamas? Pizza in your pajamas and holiday painting projects while sharing joy with others, of course," Meghan Williams the clinic's outreach director said. "We had an absolutely wonderful time with this community wide event and are grateful to all who helped us make the day magically memorable."
A big thank you goes out to our partners at Wounded Warrior Project, Blue Star Families and Arts for Hearts who co-sponsored the event. If you missed it this year, a few of Santa's elves may have mentioned they'll be back again next year!
Holiday Elves
Also part of our holiday happenings this season, clinic staff did their best impressions of holiday elves. The team along with the Centerstone Veterans Engagement Group (ERG), helped ensure military families in need were given a holiday to remember. Centerstone employees joined forces in purchasing and wrapping gifts for six families across the three Cohen Clinics at Centerstone spreading the spirit of the season and giving back to those who gave so much.
Anna Goletz, Veterans ERG leader, knows first-hand how special this effort is. She was on the receiving end of this heartwarming gesture when her husband was deployed over the holidays a couple of years ago. Now she passionately heads up the project to ensure others have the happiest of holidays even in the toughest of times.
"I was so touched by the thoughtfulness of our team, I could barely find the words," Goletz recalled. "The holidays can be lonely and difficult when your loved one is away or when facing hard times. This program helps spread joy and remind us we are never alone."