Holiday Mail for Heroes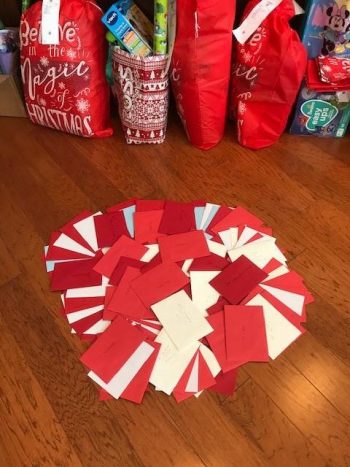 Holiday cheer is in the mail. Literally. The Steven A. Cohen Military Family Clinics at Centerstone teamed up with the Red Cross to make sure of it.
Every year the Red Cross hosts a "Holiday Mail for Heroes" (HMFH) program that empowers people to give a gift that matters by sending a card of thanks and support to the members of the Armed Forces, veterans and their families. This time around, staff from all three Cohen Clinics at Centerstone got in on the effort, penning more than 60 special thankyous and well wishes to this most deserving population.
"When we heard of the Red Cross's initiative to send our best to our nation's heroes and their families this holiday season, our team didn't bat an eye." Brigadier General (ret.) Michael Fleming, outreach director for the Cohen Clinic at Centerstone in Jacksonville, FL said. "This time of year can be so difficult for service members and military families, the least can we do to support them is remind them their sacrifices are not forgotten."
The clinics' cards were gathered in Tennessee and North Carolina, sent to their sister clinic in Florida then delivered to the Red Cross which distributes the messages to active duty members serving oversees, their families and our nation's veterans around the globe.
"We were able to send our appreciation and support to those we may not have had any other way of reaching out to," Lisa Eggebeen, Regional Director of the Cohen Clinics at Centerstone said. "We truly believe that our men and women in uniform- past and present- and their families should never feel alone.  A holiday card isn't nearly enough of a thank you, but we hope it makes a small difference this year."
Red Cross locations across the country will see to the distribution of each card received ensuring they are delivered to hundreds of locations domestically and around the world, including military installations, military and VA medical facilities and veterans organizations.