Jacksonville Clinic Starts an Art Group for Military Children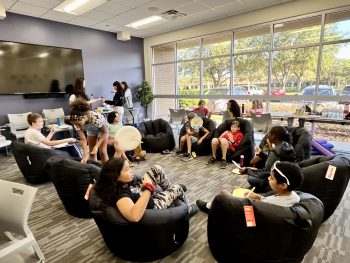 By Natalie Byram, LCSW
The children's art group is an innovative, hands on, creative group that children will be able to come and learn to enjoy themselves with art. The final product is not the goal; there is no right or wrong with art. Participation in this process allows them to learn coping skills, breathing techniques, and other innovative ways to control big feelings (emotional regulation), while having a great time with other kiddos that are struggling with the same issues. This process not only helps to teach these life skills, but it allows children to see that they are not alone in their struggle. We all struggle, and we can all heal.
The first class included learning coping skills through the use of creating calming bottles to utilized for belly breathing while observing the child's own creation (the bottle itself) that incorporates many different senses. The child can see their bottle, touch it, and move with hit (shaking), while breathing. The children were also given psychoeducation in a fun way to see that sometimes we "wear masks" on the outside but feel another way on the inside. They created these masks literally and were able to share what those feelings were and why they might not want to show or be able to express on the outside to other people.
We are hoping to utilize The Invisible String to assist children to discuss, and learn about loss, grief, and /or missing their family members when they are deploying or just away from home. This book explains this simple concept in a great way and there will be activities to involve art to express these feelings and emotions. We also plan on utilizing different art projects in the future to assist children learn about feelings and emotions and ways that are healthy and creative in expressing them. This is an "outside of the box" way to teach skills without the children feeling like "they are in therapy" per se.