Kids Say It Best – Thank You Veterans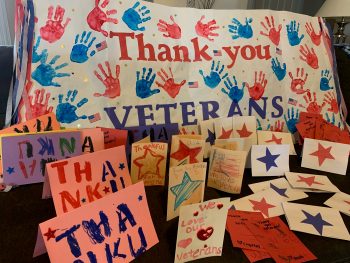 Sometimes, kids say it best. Their innocence and sweetness have a way of touching our hearts. That was certainly the case recently thanks to the children and staff at the Settlement Preschool and Kindergarten. When searching for a way to show area veterans just how much we appreciate their sacrifices, the team at the Steven A. Cohen Military Family Clinic at Centerstone in Clarksville, TN thought what better way to make Veterans Day special for area heroes than to let our little friends extend our gratitude?
The Settlement's kids stepped up big time. They broke out the art supplies and crafted more than 100 handmade thank you cards to be distributed by the Cohen Clinic staff to DAV chapter 45 members and Tennessee Veterans Home residents.
"The Settlement staff and kids are incredible," Meghan Williams, outreach director at the clinic said. "When I approached them with the project they jumped at the chance. Their enthusiasm was contagious. It was heartwarming to see how much they wanted to honor our veterans on Veterans Day and clear that they poured their hearts into their creations."
The Cohen Clinic at Centerstone team then partnered with the local DAV chapter commander, Daniel Chase, to distribute the cards and a large banner featuring little handprints in red, white and blue paint.
"Mr. Chase was touched by the sentiment," Williams said. "I think we were both a bit awed by the sheer number of cards and the effort put into each one. So much so, we quickly realized just how many veterans we could touch this Veterans Day. It was a wonderful feeling to know both DAV members and our residents inside the Tennessee Veterans Home would receive a special thank you this year."
From all of us here at the Cohen Clinics at Centerstone, thank you to all our veterans. Your service and sacrifices mean more than you will ever know – just ask your little fans.