Meet the Team: Angela Whittinghill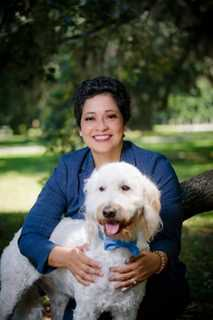 One thing is definite within the Steven A. Cohen Military Family Clinic at Centerstone – our team is a team.  Each and every staff member not only plays a crucial role in accomplishing our mission to ensure our military families receive the care they've earned, but they do so from the heart and with a passion that can't help but to inspire. Here's a closer look at one such teammate, clinician Angela Whittinghill.
 Tell me a little bit about yourself, such as where you grew up and your background leading up to joining CVN?
I was born and raised in Honduras. In case geography isn't your jam, Honduras is in Central America next to Guatemala and El Salvador. I am the 4th out of 6 children. I've been married for about 6 years, this is my second go-round, I was a Military spouse during my first tour de marriage. My ex-husband was stationed in Honduras and that is where we met and married after a long romance of 30 days (hey, I was 17, I knew everything!). That is also how I ended up living in this country. I have a 23 year old stepson and 4 year old furry son named Jackson. Please don't ask me which one is my favorite.
In my former life, I was a Police Officer for 10 years. I got to serve in a lot of different fun assignments that included narcotics, DUI, property crimes, and good old regular street cop. I loved every minute of it (and yes, I do miss it sometimes). I became a therapist because I wanted to hold space for those suffering, especially from trauma, and help to facilitate their healing process. In my opinion, witnessing someone's suffering is a privilege, and facilitating their healing process is an honor.
I am also a certified yoga teacher and I am currently finishing my certification in Animal Assisted Psychotherapy with my partner "Dogtor" Jackson. He is a 4 year old Goldendoodle, the fluffiest and sweetest soul you will ever meet. He also is suffering from doggie-PTSD due to extensive trauma he suffered before joining our family, but with the help from a LOT of folks, he is a changed dog.
You've taken life experience and built a career to help others, what was your greatest takeaway from this process?
Us humans, we are all the same even though we look different. We all want similar things in life and strive to be happy.
How have things been going at the clinic since you arrived?
I couldn't ask for a better experience, a better team, or a warmer welcome. I feel extremely fortunate to have joined this team and this organization.
Have you faced challenges so far in your time at the clinic?
Other than learning EHR? No. I love my clients and the work I am doing. I am really excited about what's to come.
What do you hope for clinic and your clients?
I hope that we do make a difference in our client's lives. Lessening their suffering, even if a just little tiny bit, is a great victory for me. My wish is that we continue to provide much needed services for years to come and continue to expand in order to serve even more clients.
What do you like to do for fun?
My most-favoritest thing to do for fun is to travel. I love exploring new places, new foods, activities, as well as getting to know the locals.
On a more regular basis, I enjoy working on my garden, feeding/watching a plethora of wildlife that visits my yard (birds, squirrels, butterflies, bees, wild rabbits, Jehovah's witnesses), reading, going to the movies, going to the beach, and fishing.
Favorite sports team?
I am not into sports… lame, I know.